Senior Team Keeps a Fresh Perspective on Developments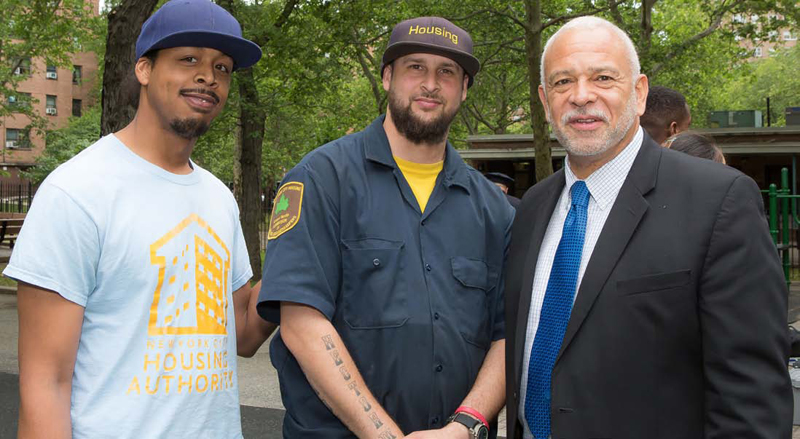 The last Thursday of the month has a familiar routine for NYCHA's executive team. That's a day designated each month when senior leadership visits developments to speak with managers and frontline staff.
The monthly visits launched with little fanfare in March 2016. Each senior team member chooses a location to visit from a group of developments targeted for a specific focus. The focus may be developments with highest or lowest public housing assessment scores from HUD; the highest or lowest rent collection rates; or the highest or lowest number of open work orders. They may have implemented Flex Ops expanded service hours, or the NextGen Operations (NGO) property management model.
Whatever the focus, every visit gives NYCHA's leaders and their support staff an opportunity to learn what's happening at the property management level and beyond, and share information about their own departments with their colleagues and staff.
"In discussions with the Chair, we felt it was important that our senior team have firsthand knowledge of what's going on at developments and how that impacts the lives of employees and residents," General Manager Michael Kelly said. "Some visits will give us a chance to see how new initiatives like handheld devices for staff are working out. Other times we get suggestions that we can implement, like a software system that cuts time to issue supplies by tracking their availability and location."
For each visit, the senior team receives a briefing that contains pertinent information for the development being visited along with a set of questions focused on the issue at hand. They later debrief and discuss their observations and any follow-up that is needed.
On April 27, the senior team selected sites from among the 35 developments with the lowest rate of unfilled open work orders for skilled trades. "We want to learn some best practices from our top performers so we can share them with other developments," the GM explained.
"I've found the visits extremely valuable," said Kerri Jew, EVP for Administration. "They've helped me to better understand the impact of position vacancies at developments and what the process of filling them looks like from the perspective of the property manager and property maintenance supervisor. The visits also help me to see how civil service job specifications for positions compare with the reality of development life."
EVP & Chief Information Officer Robert Marano also gains important information from the field visits. "It's easy to become isolated here in central office. By asking development staff questions about their computer equipment, we discovered there were issues with the printers. As a result, we conducted a survey of developments to gain more information, and after we addressed the problem, we did a follow-up survey to ensure that the issues were resolved."
Riis Houses Property Manager Lizamma George thought the visits were a good idea. When the senior team stopped by on March 30, they were focusing on developments with the highest number of open work orders for heat and hot water. "We discussed a number of heating issues, including how old our boilers are," said Ms. George, who also discussed staffing issues with Ms. Jew. "I hope the information we provided is helpful," Ms. George said, "and I hope to hear about some follow-ups."