Safely Handling Stress

SafeNYCHA - A monthly series on employee safety issues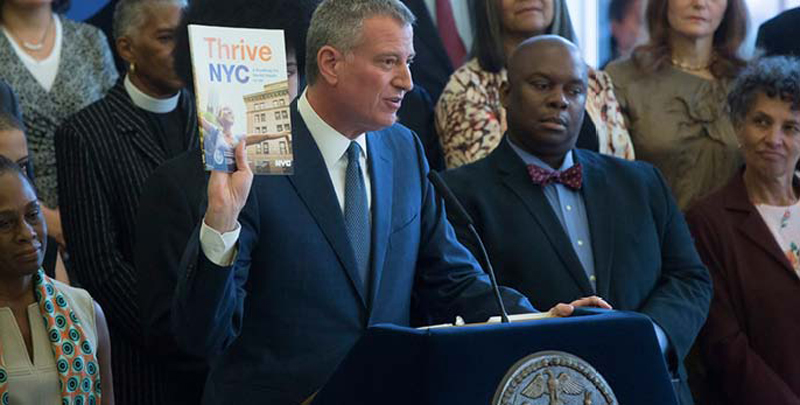 "Life is full of stress… But the thing about handling stress well is being able to appraise it, react to it appropriately, and put it behind you."
Dr. David Spiegel, Stanford Center on Stress and Health There are many factors that can affect how safely you perform daily tasks—like driving, drilling, mowing or mopping. One one of the most significant is the level of stress that you are experiencing. Whether dealing with difficult or challenging situations at work or home, stress can adversely affect the choices you make and expose you to hazardous situations.
One way to deal with stress is through stress management. While it's often equated to relaxation exercises, stress management can include other self-care practices, such as exercise and nutrition. Here's some basic information about exercising, relaxation, and nutrition to help you deal with stress.
Exercise
Exercise increases your physical strength and stamina while reducing the dangerous effects of stress, making you more resistant to future stress. Exercise increases the blood supply to your brain to improve thinking, raise your energy level, make sleep more efficient, and release the muscle tension and physical arousal symptoms produced by your responses to stress. Standard advice recommends exercise for 30-40 minutes at least three times a week, including warm-up and cool-down time, but you should start slowly and build up to that frequency. Before starting on any exercise program, get a complete physical examination.
Nutrition
Good eating habits help you repair and sustain yourself physically and mentally and counteract the strain that stress induces. It also provides the fuel for the exercise needed to maintain the cardiovascular system. Nutritionists suggest the following dietary guidelines:
Maintain the right weight for your height and bone structure.
Eat a variety of foods, including those with adequate starch and fiber.
Avoid too much sugar, salt, fat, saturated fat, and cholesterol.
If you drink alcohol, drink responsibly and in moderation, and never on the job.
Relaxation
Relaxing and sleeping are primary ways to let go of tension. They stop the "fight, flight, or freeze" syndrome. This syndrome describes the three typical ways a person may react to stress: "fight"—feeling agitated or aggressive toward others; "flight"—avoiding or removing oneself from the stressful situation; and "freeze"—an inability to act or move. Relaxing returns the body to normal functioning.
The following techniques can help you relax:
Regular, controlled breathing;
Visualizing a calm scene; and
Meditation or prayer.
The next time you find that you're stressed, try one or a combination of these stress management techniques. You will feel better and be safer as a result.
NYC Employee Assistance Program
All NYCHA employees and their eligible dependents can get free and confidential support from professional counselors and referrals available through the City's Employee Assistance Program (EAP). They can help you handle problems in areas such as stress, alcoholism, drug abuse, mental health, and family difficulties.
You can reach an EAP counselor at 212-306-7660 during business hours or by email at eap@olr.nyc.gov. After hours, leave a message and a counselor will return your call on the next business day.
Thrive NYC: A Mental Health Roadmap for All Mental illness is a sad reality in NYC:
One in five adults face a mental health disorder each year.
Eight percent of high school students report attempting suicide.
More than one in four report feeling persistently sad or hopeless.
Deaths from unintentional drug overdose now outnumber both homicide and motor vehicle fatalities.
Failure to adequately address mental illness and substance misuse costs New York City's economy an estimated $14 billion annually in productivity losses.
In November 2015, Mayor Bill de Blasio launched "ThriveNYC: A Mental Health Roadmap for All." To learn more about this plan of action with 54 initiatives to support the mental well-being of New Yorkers, go to  http://www1.nyc.gov/nyc-resources/ thrivenyc.page.