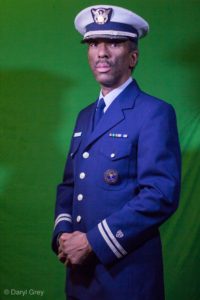 Daryl Grey, a 14-year NYCHA veteran, supervises a team of four technicians who configure and deploy Android smartphones and tablets and perform high-level repairs at the Authority.
As a volunteer, Mr. Grey also commands a U.S. Coast Guard (USCG) Auxiliary flotilla (unit) based in Sheepshead Bay. He appoints the Flotilla Staff Officers, leads and supervises the unit, and ensures that it conforms to the Coast Guard's policies and procedures.
Known as "America's Volunteer Guardians," the USCG Auxiliary's 26,000 members help keep waterways safe by assisting distressed boaters, educating the public on boating safety, conducting commercial fishing and vessel exams, and responding to pollution and emergency incidents.
Before joining the USCG Auxiliary over four years ago, Mr. Grey was a member of the NYPD's volunteer auxiliary police force, where an Auxiliary Lieutenant recognized his leadership qualities and invited him to a flotilla meeting.
"I liked how the Coast Guard's primary function is to save lives and property," he explained. "Boating recreation is rapidly expanding in and around the NYC area. A lot of people are purchasing kayaks, paddle boards, surf boards, and jet skis without any basic knowledge of water safety and the 'rules of the road.' I enjoy going to marinas and watercraft stores to teach people about the importance of water safety and life jackets. I'll occasionally speak to a group of children and their parents; the children always show great concern about doing our part to protect marine life."
Mr. Grey also recruits for the U.S. Coast Guard Academy in New London, Connecticut. "Speaking to high school juniors and seniors, informing them about educational and career possibilities within the USCG, is gratifying. Their faces light up when I tell them that upon graduation from the USCG Academy they'll be commissioned officers and can be assigned to command a Coast Guard Cutter [vessel]."