New Online Re-certification Provides 24/7 Information Access

by Darnes Taveras, Senior IT Program/Project Manager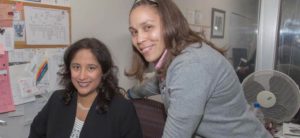 NYCHANow continues its "employee voices" series featuring articles by employees about initiatives and events that they know best. To submit an article about a project in your department, please contact NYCHANow. We want to hear from you!
On September 1, 2016, 14,000 NYCHA residents in 54 developments who were up for re-certification were invited to participate in the new Online Re-certification Process. Offering residents the option to complete the annual re-certification process online is part of the Authority's efforts to improve customer service and provide residents with 24/7 access to their information.
In her recent presentation at the White House's Opportunity Project, Chair and CEO Shola Olatoye said, "Investing in and equipping staff with 21st-century tools is essential to improving customer service and creating safer, cleaner, more connected NYCHA communities. Transitioning to a digital-friendly workforce will streamline our day-to-day operations and allow staff to spend more time focused on residents, and less time filling out paperwork."
The pilot for online annual re-certifications for Public Housing residents began almost a year ago in December 2015. During that time, a handful of NYCHA residents at Lincoln Houses were invited to complete their annual reviews online. Since then, NYCHA has been slowly growing the program, working with staff and residents to make improvements and respond to issues. In the third quarter of this year, 54 developments have been added, opening up the online process to over 23,000 households.
To date, NYCHA has trained approximately 400 staff on the new online system, which is built on NYCHA's Customer Relationship Management software, Siebel. In addition to formal classroom training, NYCHA provides property management staff with coaches, computerbased training classes, selfhelp guides and a dedicated help desk.
Senior Vice President for Operations Brian Clarke emphasizes the importance of the training initiatives: "Change is challenging but ultimately this new process will help staff work more efficiently while improving customer service to residents. That's why we are investing heavily in training and job coaches for staff because we know that, given the right tools and training, staff will successfully adopt the new process."
Resident participation is crutial. NYCHA is working with community-based partners to help residents with the process and provide access to computers and WIFI. Residents can also use computers in our mobile Digital Vans to complete their annual re-certifications online.
"In addition to training, we are actively reaching out to residents and communitybased organizations to help bridge the digital divide," says Janet Abrahams, Senior Vice President for NextGen NYCHA Operations. "Within the next few months, we will install self-service kiosks at developments, enabling residents without computer access in their homes to complete their online annual reviews and other self-service tasks."
Every NYCHA household will have the option to complete their annual re-certifications online using a desktop computer, a tablet or mobile
phone by December 2017.