Managing through Adversity

By Marvin Jean-Jacques, Mold Administrator, Technical Services Department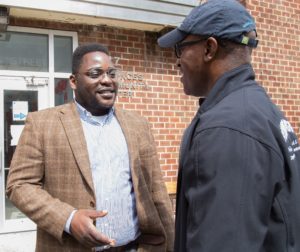 The years of disinvestment have eroded our buildings and, in a similar fashion, our morale. The conditions and the times we face can be summed up in one word: adversity. NYCHA is facing a critical time of adversity and all of us in the room for the Employee Engagement Committee's (EEC) monthly meeting were aware. Adversity is defined as a state or instance of serious or continued difficulty. Adversity also is a prerequisite of the human condition. What should we do to overcome adversity? How can we manage through these times? For those of us in the second cohort of the EEC, we found ourselves grappling with these questions early on a Wednesday morning.
We collectively realized that the only way to overcome adversity is to face it head on. In our personal lives, we will all face challenges. All we can do is overcome them.
In our meeting, we discussed five ways we can learn and grow through adversity:
Acknowledgement: acknowledge the problem exists; deal with emotions first
Communicate: inform your direct manager of the issue immediately
Directness: address the actual problem; take ownership of the situation
Speed: address the problem as quickly as possible
Correction: correct the problem; use the information as an opportunity to make improvements
As Yvette Andino, Director of Employee Engagement, said, "Learning to deal with and overcoming adversity is what builds character and resilience."
In light of the challenges, it may seem counter-intuitive to celebrate. However, it's at these times precisely we need to remember who we are and what we value. Cecilia Almendarez, Housing Manager at Rutgers Houses, understands that we are a collaborative workforce, accountable to ourselves and our residents. For her, customer service starts with staff. "I started an employee of the month campaign. Now everyone is working hard to get employee of the month. Productivity has gone up and so has morale."
Omar Glover, Assistant Property Maintenance Supervisor at Wyckoff Houses, knows he's short staffed, so he makes a point to boost morale at his development: "Every day, I make sure to say a kind word to someone on my staff. Let them each know they did a good job. A simple thing like that can change their whole day."
Chaking Moore, Resident Buildings Superintendent at Parkside Houses, always makes himself available: "If anyone needs help or is having a hard time with a supervisor or subordinate: Come to me."
Like Cecilia, Omar, and Chaking, we can all manage through adversity by holding fast to our core values. Despite the challenges, we will always respect our fellow colleagues, residents, and stakeholders. We embrace diversity and inclusivity. These values are the compass that will guide us through these rough waters.