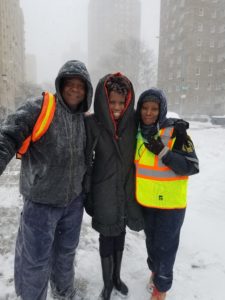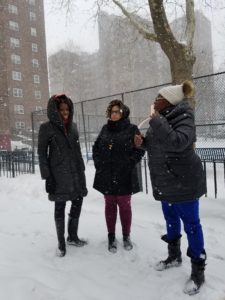 Even before "B​omb Cyclone" Grayson arrived in New York on January 4, many NYCHA residents were struggling with heat and hot water outages across the five boroughs due to an early cold spell that began just after Christmas, testing NYCHA's aging infrastructure. In response to the extremely cold weather, NYCHA staff have been working 24/7 to clear snow, restore outages, and ensure consistent heat and hot water service.
NYCHA Chair & CEO Shola Olatoye spent hours visiting residents and employees at hard-hit developments, listening to concerns, thanking residents for their patience, and lauding employees for their hard work under challenging conditions.
On January 4, Chair Olatoye first stopped at NYCHA's Long Island City office to get a briefing from staff at the Situation Room, set up by the Authority's Office of Emergency Management (OEM). And she thanked employees working the Customer Contact Center who were receiving heavy call volume due to the snow and extreme cold weather. The Chair greeted employees who had been working around the clock – some for nearly two weeks – to coordinate heat and hot water repairs and other weather-related emergencies. NYCHA's OEM works in concert with the City's Office of Emergency Management and other agencies, including the NYPD, Fire Department, Department of Sanitation, and Department of Environmental Protection.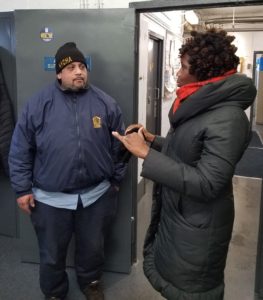 From there Chair Olatoye traveled to Taylor-Wythe Houses and Independence Towers in Williamsburg, where she met with property management staff, many of whom were busy working to clear snow. She also visited with maintenance staff to discuss their efforts to maintain heat and hot water service for residents.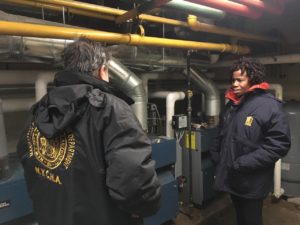 Next the Chair traveled to Patterson Houses in the Bronx, where she spoke to new City Council Member Diana Ayala, Resident Association President Patricia Simpson, property management staff, and heating plant technicians about issues they were having with their mobile boilers. She concluded her day-long blizzard tour with a visit to Saint Mary's Park Houses in Mott Haven to thank staff for their hard work and get feedback on how she can better support their work.
The Chair's visits concluded on January 6 with another stop at the LIC Situation Room, followed by a visit to Union Avenue Consolidated in the Bronx to meet with staff to understand some of the infrastructure challenges the development has and how they were working tirelessly to restore heat and hot water service to residents. She also met with the City's Office of Emergency Management and the American Red Cross to discuss the temporary shelter provided to all Union Consolidated residents affected by persistent heat outages.
"I want to give a big thanks to every NYCHA employee working around the clock to keep our residents safe and warm," the Chair told staff. "These are incredibly challenging circumstances to work under, and you are doing an amazing job."