Woodson Houses Is Tops

NYCHA Recognizes Top Recycler & Eco Challenge Winners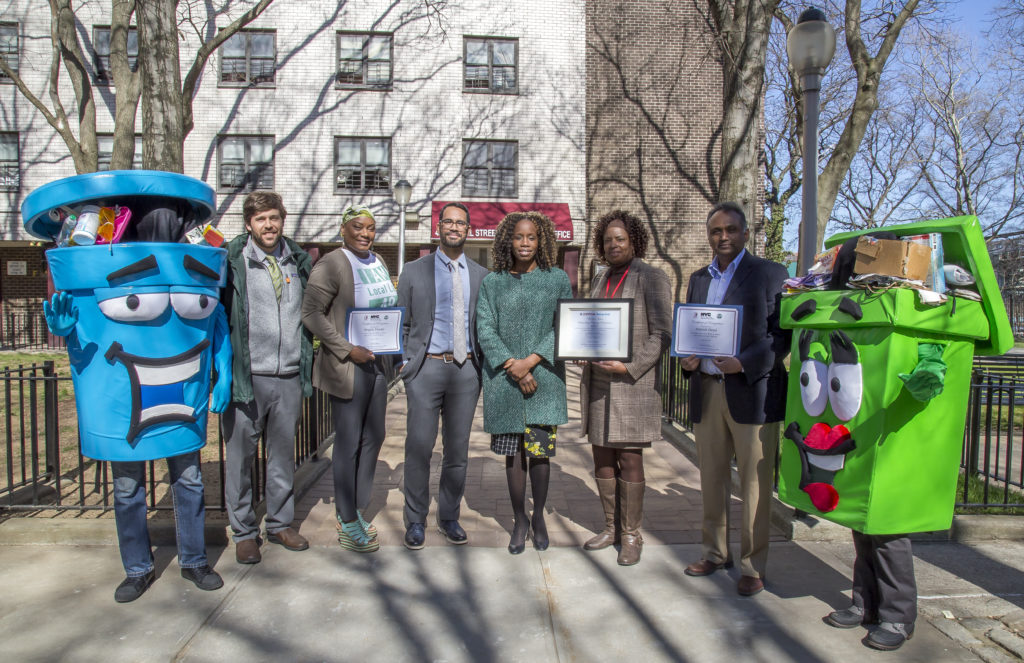 NYCHA celebrated Earth Day by naming Woodson Houses, a development for seniors in Brooklyn, as the top recycler of all the Authority's 325 developments. Thanks to the partnership between Woodson's 433 residents and NYCHA staff, the development has a successful recycling program that captured over 25 percent of metal, glass, plastic, and paper recyclables in 2017. Woodson Houses Resident Association President Margarita Melendez joined Chair Shola Olatoye at the April 23 event.
The winners of the NYCx Co-Lab Challenge: Zero Waste in Shared Space were also announced during the festivities. The Challenge, a partnership of City government and the Brownsville community, called on the tech industry to propose solutions that reduce litter and improper waste disposal, increase resident participation in recycling, and promote waste-free common spaces through enhanced community stewardship at Brownsville Houses in Brooklyn. EcoRich, LLC, a composting equipment manufacturer, and Mothers on the Move, a community-based organization, will each receive $20,000 to deploy their proposal to encourage every Brownsville Houses household to achieve "zero waste" over the next six months.
"These two winning proposals will help Brownsville Houses become cleaner and more sustainable, bringing us one step closer to our NextGeneration NYCHA goal to provide safe, clean, and connected communities to all residents," Chair Olatoye remarked.
EcoRich proposed an onsite organics processing system using sealed, automated composters that odorlessly turn food scraps into compost in 24 hours. Removing food waste from landfill-bound garbage can reduce overall trash volume by 23 percent. The compost will be available for residents to use in local gardens and the nearby Howard Houses farm, part of Farms at NYCHA.
Mothers on the Move (MOM), a non-profit based in the South Bronx, will offer a door-to-door recycling pickup service and encourage residents to recycle more through peer-to-peer education. The proposed program was designed by a longtime Mothers on the Move member and NYCHA resident. The proposal will also evaluate how the service can become a social entrepreneurship opportunity for NYCHA residents.
The initiatives will be supported by Green City Force and the Fund for Public Housing. Green City Force is a youth service-learning organization that works extensively with NYCHA residents on outreach and managing the Farms at NYCHA. Green City Force Corps members will collect recyclable materials door-to-door and provide resident education. The Fund for Public Housing, a non-profit organization that invests in the well-being of NYCHA residents and their communities, will support the expansion of the winning proposals beyond the six-month pilot through the Ideas Marketplace crowdfunding platform
"This is exactly the type of innovative collaboration, powered by public housing residents, that the Fund seeks to support. We are thrilled for the winners and for Brownsville," said Rasmia Kirmani-Frye, President of the Fund for Public Housing.