What's a Safety Associate?

SafeNYCHA - A monthly series on employee safety issues
Safety associates (SA) identify safety issues at their locations and work with co-workers, supervisors and the Office of Safety and Security (OFSS) to prevent on-the-job injuries. An integral part of NYCHA's safety program, they ensure that safety-related activities are reported to their supervisors and advocate for safer working conditions.
The SA role was created in 2013 when NYCHA's new safety program recognized the need to work collaboratively with unions to introduce and win support for the safety program in the field.
Job Responsibilities
SAs have scheduled assignments and special responsibilities that are identified in training sessions at the safety congresses. Aware of these responsibilities, SA's supervisors accommodate their need to access emails, perform site safety assessments, and meet and speak with co-workers about safety concerns in a way that does not adversely impact their regular work assignments.
Safety Congresses
There is a safety congress from each management department: Bronx, Brooklyn, Manhattan, Mixed Finance, NGO, and Queens/SI, and one for the skilled trades. Every month each safety congress meets with their property management director and representatives from the union and OFSS to discuss the safety issues at their locations and share information on safe procedures and equipment.
What the SAs Say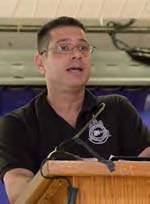 "NYCHA's safety program is great," said Teresa Little, a caretaker at Mariner's Harbor on Staten Island. "As the safety liaison in my development, I make sure the staff is doing their tasks safely."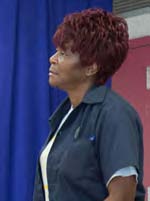 In the skilled trades safety congress report delivered at the 2016 Safety Symposium, Elevator Mechanic Bob Beale reported: "Personal protective equipment is only one part of an effective safety program. Our thought process is the other. Being able to see, identify, correct and avoid hazards are the keys to everyone's safety."
Grace Watson, a caretaker at Boulevard Houses, in Brooklyn, says: "One way I help is by making sure that the right precautions are being followed and employees are working safely. I let supervisors know about safety issues, address them, and follow safety protocols."
To all who serve as safety associates, many thanks from OFSS for taking on this important position. And to all other employees who have helped make our work environment safer, OFSS thanks you for your cooperation and compliance with NYCHA's safety program.
If you are interested in becoming a safety associate, please speak with your union's business agent. For safety concerns, please contact the Office of Safety and Security at 212-306-8800.