"We Build Resilience by Being Prepared."

A Q&A with NYCHA OEM Director J.A. Stakenburg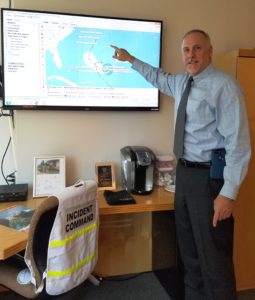 With hurricane season in full swing, NYCHANow spoke to J.A. Stakenburg, who was hired a year ago to helm NYCHA's newly revamped Office of Emergency Management (OEM), about employees' roles and responsibilities when it comes to emergencies.
This seems to be a very active hurricane season. What should NYCHA employees know about being prepared for hurricanes and other weather emergencies?
NYCHA employees are part of a system of preparedness that contributes to strong, resilient cities. Our mission is to serve the public good and to ensure that our residents can count on us when an emergency or disaster disrupts our normal routines.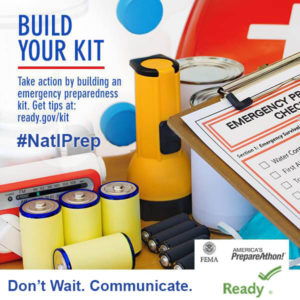 So that employees can focus on emergency tasks when necessary, they should ensure their families have a family emergency plan (download a template here). They should stay connected to reliable information sources by signing up for free emergency messaging from the City at Stay Informed and from FEMA via the FEMA App. Lastly, they should put together and maintain emergency supply kits for each family member, including pets, seniors, and any family members with disabilities or access or functional needs, and keep some basic supplies at work. Instructions and a checklist for building an emergency kit can be found here.
 All NYCHA employees have been categorized into two groups: those who perform essential duties that MUST continue, even during an emergency or disaster (approximately 9,500 employees), and those who perform duties that may be deferred or suspended during an emergency or disaster (approximately 1,300 employees). 
 Under NYCHA's Continuity of Operations Plan (COOP) and other emergency plans, those 1,300 employees who have duties that may be deferred during an emergency will be reassigned to support emergency response and recovery operations.
 Employees can find out how they are classified by speaking with their supervisor. Also, the City's Employee Self-Service system will soon indicate employees' classification.
Can you explain more about the difference between "essential" duties and "deferrable" duties?
 Essential duties are those that, if they are not performed, could have severe, negative impacts for residents or duties that support staff such as payroll and some human resource responsibilities. Deferrable duties can be suspended for a time without negative, direct impacts to residents (for example, renting units to new tenants or appearing in court for civil matters).
We're coming up on the fifth anniversary of Superstorm Sandy. What has NYCHA's Office of Emergency Management done to strengthen the agency's preparedness?
 The fact that there is now a NYCHA OEM is the most significant action post Sandy. NYCHA's post-Sandy action report highlighted the need for a unit totally dedicated to emergency management activities. In the years since Sandy, NYCHA has begun building resilience in our developments and internal processes and instructing staff, residents, and our commercial/non-profit tenants on how to respond to and recover from disruptive events.
 NYCHA's Office of Emergency Preparedness was rebranded last year as the Office of Emergency Management (NYCHA OEM), to better align with industry standards and best practices and to reflect the concept that the unit is not just a preparedness entity. In addition to planning and preparing, OEM also coordinates response and recovery activities related to large-scale emergencies or disasters. We engage in all citywide exercises and drills, and we participate in dozens of interagency planning task forces.
 We are also providing Resident Watch volunteers the opportunity to get trained as Community Emergency Response Team (CERT) members so that they can perform light search and rescue, basic first aid (including psychological first aid), traffic control, and basic firefighting (using a fire extinguisher and recognizing when additional assistance is needed) in the event of an emergency.