The New Year Brings a New Senior Center to Red Hook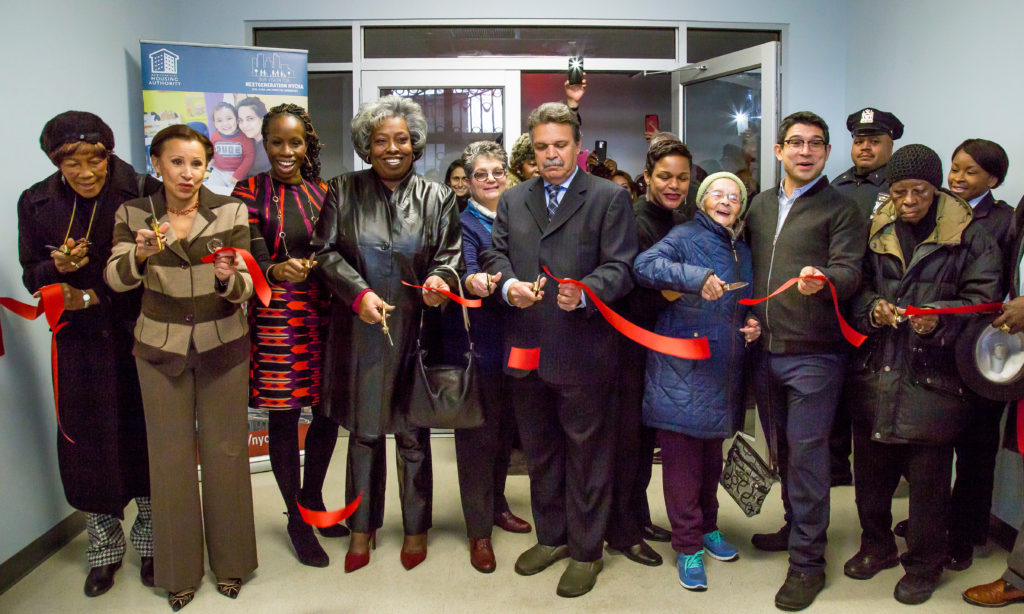 Red Hook East Houses residents Gertrude "Trudie" Holzendorf, 94, and Candida Delgado, 88, had been anxiously waiting for this moment for five years. On December 15, they got a sneak peek at the new Red Hook Senior Center; the former center had been destroyed by Superstorm Sandy. The center officially opened for programming in January.
Ms. Delgado has lived at Red Hook Houses for 63 years and raised seven children there. Her excitement was contagious. "I'm very happy that this new center is open," she said. "Now, I'm alive and well. I was worrying and worrying because Sandy took our center away. I come every day. There's nobody in my house, but here at the center I have a lot of friends. We come to talk and gossip."
Ms. Holzendorf, a 32-year Red Hook resident, said, "It's beautiful, it's convenient. I will come every day that it's open, for breakfast, for lunch. This is my second home."
The original center was located in a basement that flooded during Superstorm Sandy in 2012. Seniors were given temporary space in the Joseph Miccio Cornerstone Community Center, but they needed and wanted a space of their own.
The new center, located outside of the flood zone, was built with $5.7 million in funding from the Federal Emergency Management Agency (FEMA), New York City Council, and other federal sources. City Council Member Carlos Menchaca allocated $1.8 million and Congresswoman Nydia Velazquez allocated $1 million. The building, vacant for several years, received a top-to-bottom renovation: a new roof, heating and ventilation systems, insulated concrete slab floors, kitchen equipment, bathroom refurbishments, fixtures, plumbing, electrical systems, walls and flooring, and doors and hardware. It also features an exercise room, sewing and dominos room, and computer lab. Red Hook seniors provided input on the center's design.
"Seniors make up one fifth of NYCHA's residents, and well over a third of our households are headed by people age 62 or older. Many of our seniors have lived in their homes for decades and are anchors of their communities, providing wisdom, support, and continuity to younger families," said NYCHA Chair & CEO Shola Olatoye. "I am very proud that this new center will serve more than 1,100 seniors."
Lisette Sosa-Dickson, Executive Director of the Spanish Speaking Elderly Council-RAICES, which operates the center, added that the center provides older adults in the community with a dedicated space to receive vital support services and programs as well as exercise, breakfast and lunch, and, most important, companionship.
Attendees at the opening also included Congresswoman Velazquez, New York State Senator Velmanette Montgomery, Assistant Speaker of the State Assembly Felix Ortiz, Council Member Menchaca, Commissioner of the Department for the Aging Donna Corrado, Red Hook Houses East Resident Association President Frances Brown, and Red Hook Houses West RA President Lillie Marshall.