The Eyes of the Authority

NYCHA Photographer Retires After Decades of Service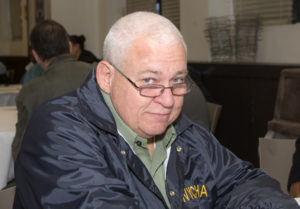 You may have met him – for 35 years, Senior Photographer Pete Mikoleski, armed with his trusty Canon camera, has chronicled important events at the Authority, capturing also the hard work of the employees who make it all happen. His work appeared in The NYCHA Journal, this publication, and a variety of informational materials for residents, staff, and the public. He retired this July, and NYCHANow caught up with him before he began the next exciting chapter in his life.
How'd you get your start at NYCHA?
I got a Bachelor of Fine Arts in photography from the School of Visual Arts and had been working as a photographer at Citibank for seven years. I wanted to make a move, so I took the civil service test for photographer. A few years after getting hired here, I was promoted to Senior Photographer.
Your wife retired from NYCHA the same time as you – did you meet here?
No, we met at a pet shop in New Jersey! But after I found out that NYCHA was looking for someone with a background in adult education, I encouraged her to apply. She got the job; for 20 years, she worked as a Community Coordinator in REES.
You've seen a lot at NYCHA. What are some highlights?
There were so many…President Bill Clinton discussed his climate initiative at a development in the Bronx, and I got to photograph him. Other notable people I've photographed include Hillary Clinton, Arnold Schwarzenegger, a lot of other politicians, and Mark Texeira of the Yankees.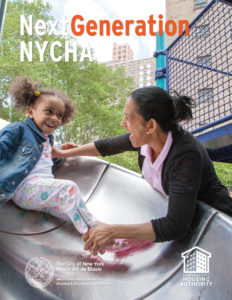 Shooting the cover for the NextGeneration NYCHA report was also memorable – and it was really a team effort. We were photographing a family, at Douglass Houses I believe, and my supervisor, Millie Molina, was explaining to the family my idea for the shot, which was of the granddaughter going down a playground slide, with her grandmother on the side of the slide. But the girl was scared to go down it. So my colleague, Photographer Leticia Barboza, went down the slide with her. The girl wasn't scared anymore, went down by herself, and we got a great shot. That was definitely teamwork!
And when I first started in the mid-80s, my photos were on a series of subway posters we did as part of a public service campaign on drug elimination.
But the work I'm most proud of was our "I am NextGeneration NYCHA" campaign. It gave us a chance to showcase our talents, and it took a lot of thought to get the type of photograph and look we wanted (it wasn't the usual group shot).
What was most fulfilling about your work?
Promoting a positive image of NYCHA for the public. And I think we did that.
What changes have you seen at the Authority over the years?
When I first started, we were fully funded. Then federal funding started declining, which has an impact.
What are your plans for retirement?
We're moving to Maine. I'd like to take some nice photos, relax with my wife, and spoil our puppies. Maybe do some freelance work or teach adult education classes. But who knows – it's all uncharted territory.
Anything else you'd like to say to your former colleagues?
Whenever we went out on shoots, the help that we got – from EVPs to Caretakers – was tremendous, and that's what made it work. So, thank you.