Sterling Members of NYCHA's Team

Rasmia Kirmani-Frye and Sideya Sherman Selected for Innovative Network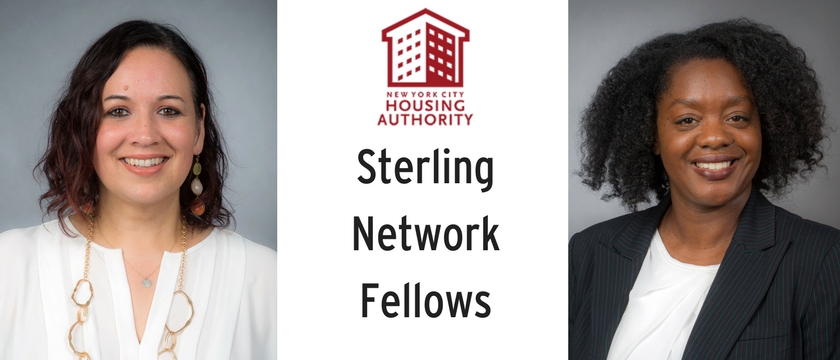 Rasmia Kirmani-Frye, NYCHA's Director of Public/Private Partnerships and the President of the Fund for Public Housing, and Sideya Sherman, NYCHA's Executive Vice President for Community Engagement and Partnerships, were among the 48 leaders selected to join the Sterling Network NYC. The first network of its kind in the city, the Network was created by the Robert Sterling Clark Foundation to provide a forum for leaders from the nonprofit, government, and business sectors to develop new and innovative ways to promote economic mobility for all New Yorkers.
Ms. Kirmani-Frye and Ms. Sherman will meet regularly with fellow change-makers working in education, housing, immigration, health, justice, and transit committed to addressing the city's most challenging economic issues. They spoke with NYCHANow about their work at the Authority and how it intersects with the goals of the Sterling Network.
How does your work at NYCHA promote economic mobility for residents?
Ms. Kirmani-Frye: The Fund for Public Housing's mission is to invest in the well-being of NYCHA residents and their communities by collaborating with external partners to reimagine and improve the way public housing works. Our three pillars of that mission are people, place, and work. Creating opportunities for economic mobility rests on all three pillars. Regarding people, partnering with NYCHA and CUNY on the Resident Leadership Academy offers a new on-ramp to a college education. Regarding place, working with the tech community opens up new opportunities for residents. Regarding work, partnering with NYCHA and the City's Department of Small Business Services to invest in Food Business Pathways program graduates is enabling residents to become entrepreneurs.
Ms. Sherman: Community Engagement and Partnerships (CEP) engages and connects residents to services and economic opportunities through five departments: Resident Engagement, Resident Economic Empowerment & Sustainability (REES), Family Partnerships, Health Initiatives, and Community Development.
CEP manages a citywide network of strategic partnerships and also implements key programs such as Jobs-Plus and the newly launched Resident Leadership Academy. CEP also leverages our role as a landlord to create new opportunities for residents through direct hiring, contracting, and creating innovative programs such as our rent reporting pilot, which is helping NYCHA residents build their credit history through positive rent payment.
Through partnerships, CEP connects residents to new career and business opportunities, in-demand vocational training, financial education, leadership development, and a range of supportive services for family members at every age.
What specific successes has NYCHA achieved in this area?
Ms. Sherman: Since the launch of NextGen NYCHA, CEP has developed 14 new youth leadership councils and facilitated over 7,500 resident job placements and more than 17,000 connections to critical services. We also expanded our partner network, bringing over 40 new providers onboard to work with NYCHA and offer a variety of quality programs and services.
New programs such as our Food Business and Childcare Business Pathways series have been a great success, incubating over 250 resident-owned businesses. We also formed a new national partnership with Book Rich Environments, connecting young NYCHA residents to literacy services and putting 50,000 books in their hands. Last year we reached some key milestones: opening our 10th Jobs-Plus site, launching a new technology career training program, and doubling NYCHA residents' access to free Virtual Vita tax prep services.
How does it feel to be selected as a Sterling Network NYC member?
Ms. Kirmani-Frye: It is such an honor. The list of members represents real cross-sector leadership in New York City – people not afraid to create sometimes unlikely partnerships in the interest of real change and creating greater equity here. These are people I have admired for years – it kind of takes my breath away. The fact that the Robert Sterling Clark Foundation has prioritized deepening and expanding networks as a way to invest in equity and creatively solve economic mobility in NYC is groundbreaking. We are all ready to get to work.
Ms. Sherman: I am thrilled to join alongside my colleague, Rasmia Kirmani-Frye. I am eager to contribute my expertise and perspective to the network while also acting upon immediate opportunities for collaboration. My hope is that participation in the network advances and, in some instances, changes my approach to these issues, so that I can work in new and different ways.
How will your participation in the Network benefit your work at NYCHA?
Ms. Kirmani-Frye: Participation in the Network puts public housing at the table with other agencies, organizations, and leaders working to solve seemingly intractable problems by driving change and increasing equity in our city for everyone. Public housing is inextricably linked to the economic success of New York City as a whole – 1 in 14 New Yorkers rely on NYCHA for home. NYCHA and the Fund for Public Housing are committed to innovation and doing business differently; our participation in the Network confirms that.
Ms. Sherman: NYCHA intersects with almost every city system. Because of this, our team has a unique understanding of where gaps and opportunities exist in serving low-to-moderate-income New Yorkers. Through the network, there's a real opportunity to work across sectors to solve problems, attract new resources, build on existing models, and prioritize public housing residents.