Safety Symposium Puts Eye On Employee Communication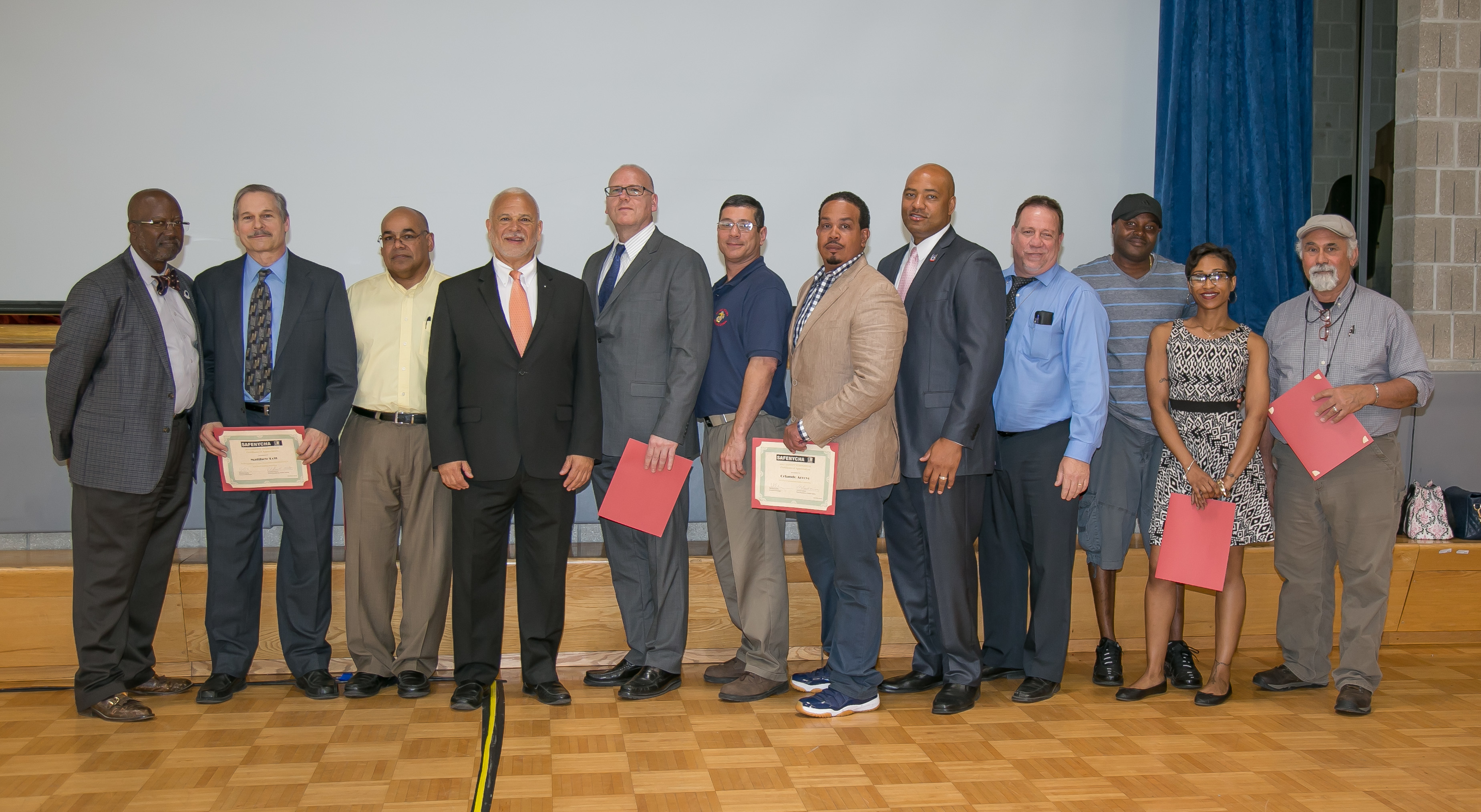 Imagine you are a carpenter at Bay View Houses, and you just removed a splinter-ridden cabinet from an apartment. It's been a long morning of work, and it's time for your lunch break. Is it okay to just leave the cabinet on the hopper in the hallway for the time being while you grab a quick bite to eat?
These were the kinds of questions considered by NYCHA caretakers, supervisors, and safety leaders at the fourth annual SafeNYCHA Safety Symposium, held on June 29 at the Johnson Community Center in East Harlem.
The goal of this year's symposium, titled "Bridging the Gap," was to establish clearer communication practices that will lead to a safer NYCHA work environment.
"'Bridging the Gap' is a very appropriate theme for this year's symposium," said NYCHA Chair & CEO Shola Olatoye in her opening remarks. "When it comes to safety planning, how can we ensure that we have thought of everything? Provided all necessary tools? Communicated effectively? These are some of the questions we will begin to answer today."
"Chief" Gerald Nelson, Vice President for Public Safety, highlighted four of the past year's safety accomplishments: the work of the borough Safety Congresses in identifying and correcting unsafe work practices; the fact that more than 90 percent of developments have designated a Safety Associate; the re-assignment of safety training to the Office of Safety and Security; and the efforts of two NYCHA safety committees, the Elevator Services & Repair Department's "Safety in Motion" committee and Heating Services & Operations' newly established "Safety Under Pressure" group.
"To those who are still struggling with how to juggle the responsibility of meeting your goals and ensuring safety, I ask you to consider what it means to your operations when you have two – or even one – staff out due to an injury, an injury that could have been avoided," Chief Nelson added.
Greg Floyd, President of the International Brotherhood of Teamsters, Local 237, also attended the symposium. "This event is a wonderful collaboration between the New York City Housing Authority and the Local 237 union," he said. "And this is collaboration at its best, because safety is the most important thing you can do at work. If you can't be safe you can't do your job, and the residents will not be able to be served."
A group of Safety Associates performed a skit written by Maintenance Worker Cephus Suber which demonstrated the importance of following safety procedures.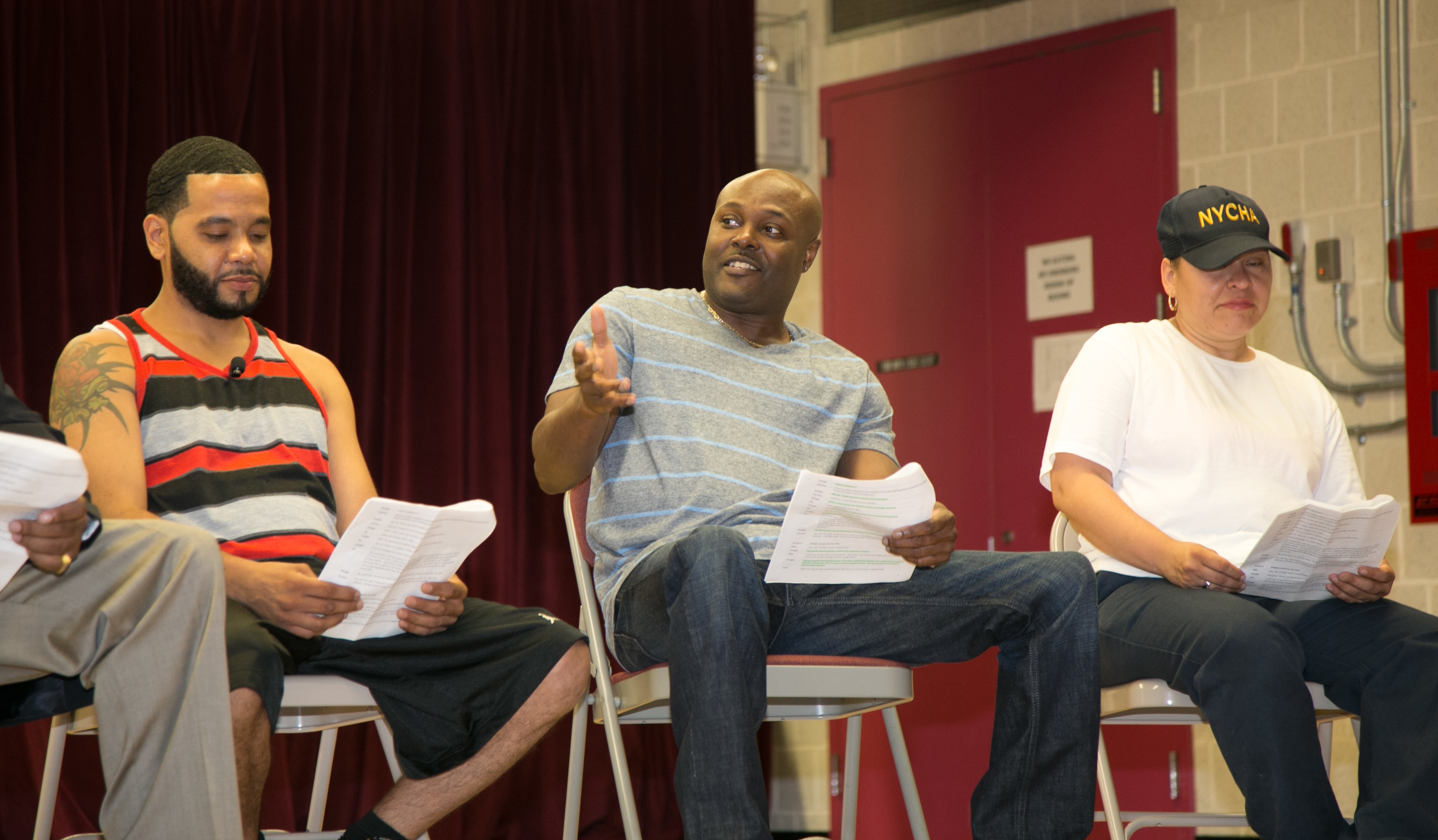 In small groups, participants explored a variety of safety matters, including the role of supervisors in fostering a safe work environment, how front-line staff can better communicate safety regulations, and how employees can resolve challenging safety issues.
Safety Associates who participate in the Safety Congresses then reported on the status of safety efforts at the developments and NYCHA departments they represent.
"Being a part of an organization that has a Safety Congress feels like being a part of an organization that cares," said La Guardia Houses Safety Associate Shavelle Knox.
NYCHA General Manager Michael Kelly concluded the symposium by saluting this year's Safety Leaders, seven employees who demonstrated an exceptional commitment to safety:
Orlando Arroyo, Supervisor of Groundskeepers, Stapleton Houses
Robert Beale, Elevator Mechanic, Elevator Services & Repair Department
Philip Calandrillo, Director, Brooklyn Property Management Department
Ivo Nikolic, Director, on behalf of the Elevator Services & Repair Department's "Safety in Motion" Committee
Cephus Suber, Maintenance Worker, Bay View Houses, Mixed Finance
Gordon Vinci, QA Field Inspector, Capital Projects Quality Assurance
Dominique Williamson, Secretary, Mixed Finance Property Management Department