Right-Sizing Extends the Benefits of Public Housing to More New Yorkers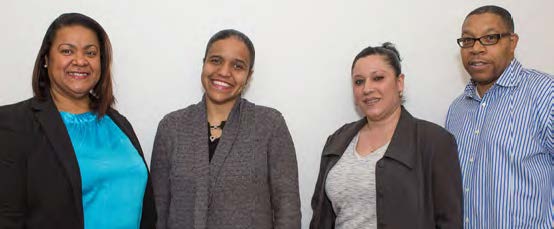 During the week of April 18, NYCHA sent letters to more than 1,500 residents in extremely under-occupied apartments, launching a major right-sizing initiative to "[free] up currently underoccupied units for larger households in need"—as outlined in the NextGeneration NYCHA 10- year strategic plan. "We understand that moving can be difficult under any circumstance," said Management Services Department Director Lillian Harris, who is spearheading the initiative.
"However, we need to transition families to appropriate sized units to ensure the maximum number of New Yorkers benefit from public housing." Residents in apartments with two or more rooms than are required by the family, and who are already approved for a right-sizing transfer, are eligible—and the first 400 families who relocate successfully will receive a $5,000 incentive. Signing up for the pilot program is voluntary.
NYCHA requires residents to reside in an apartment of the appropriate size based on family composition. Residents in extremely under-occupied apartments, who do not have a reasonable accommodation or grievance, are placed on a transfer list and must relocate when they are selected by the Tenant Selection and Assignment Plan (TSAP). These residents may choose to be placed on a transfer waiting list within their own development, another development, or a borough-wide waiting list. In order to expedite transfers, residents who participate in the right-sizing pilot program must select a borough preference and accept an apartment from that borough's waiting list only. In general, tenants on borough-wide wait lists transfer much faster than those on development lists.
In addition to the $5,000 incentive, the first 400 participants will have their moving expenses paid if they use a NYCHA-authorized mover. Moreover, NYCHA will waive the security deposit upgrade and other rental fees for residents not on public assistance. (Those on public assistance will obtain a new security deposit voucher from the Human Resources Administration.)
To participate in the pilot program, residents must sign up on the NYCHA website or visit NYCHA's Self-Service Portal by May 13, 2016. Residents without Internet access can visit their local property management office for assistance or use a computer in one of NYCHA's digital vans. Once matched to right-size units, residents will receive two apartment offers. If both offers are declined, they will be re-instated to their development waiting list, with the original certification date.
Webinar Training Prior to the launch, the Management Services Department delivered a series of webinar training sessions for more than 600 property managers, assistant property managers, and housing assistants who will help implement the program. Facilitated by Alan Pelikow, assistant director, and Zobeira Martinez, senior administrator, in the Management Services Department on April 12 – 14, the training provided an overview of the pilot program and the role and responsibilities of property management staff in making the right-sizing initiative a success.
In response to questions, Mr. Pelikow noted that the $5,000 incentive will not be counted as income and will not result in higher rent.
A small team of right-sizing coordinators will assist residents and property management staff throughout the process. Management Services Department Chief Irlanda Fernandez will serve as primary right-size coordinator.