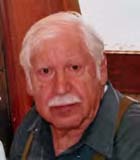 Dear Editor,
The NYCHA family of retirees is saddened by the passing of longtime employee and friend Ralph A. Pelo on January 4, 2016.
Ralph was born in Brooklyn, New York. He was a charter member of the Teamsters Local 237. Through the years he held many different titles at NYCHA.
Before retiring he spent many years as an administrative superintendent. For many years Ralph gave up his evenings to teach classes on steam distribution, helping many employees succeed in advancing their careers. In the early 70's, he was in charge of the trainee career ladder program which caretakers and new employees took to obtain promotion to maintenance worker.
Ralph also served honorably in the U.S. Navy during the Korean War. Ralph is survived by his loving son, John R. Pelo; his wife, Annette; and sisters Dora Accurso and Violet Pattay, along with cherished nieces and nephews. He will be sadly missed but never forgotten.
Anthony Cottone and the Retirees Luncheon Group