Remembering Kisha Jackson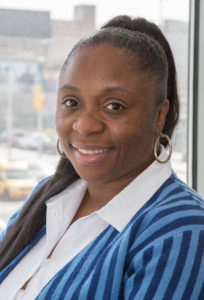 In April, the NYCHA community lost a beloved colleague. Kisha Jackson changed the lives of thousands of employees and residents during her more than 20 years of service. Over the past four years, Ms. Jackson connected residents to life-changing opportunities in her role as a REES Zone Coordinator for Downtown Brooklyn. She was also lauded for her work as a community center director at Atlantic Terminal, Farragut Houses, Independence Towers, and Ingersoll Houses.
Brooklyn Borough President Eric Adams posthumously awarded Ms. Jackson a citation for her lifelong commitment to public housing residents. In 2016, Ms. Jackson was one of the recipients of the HOPE Program's "Partner of the Year" award. She grew up in Ingersoll Houses, and her parents were born and raised in Whitman Houses.
Several of Ms. Jackson's colleagues shared their thoughts on the difference she made throughout her life and career:
"Kisha impacted the lives of countless residents, colleagues, and other community members with her passion, dedication, and constant encouragement. We miss her deeply."
-Shanna Castillo, REES Director
"Kisha loved the work she did; she enjoyed the kids, young people, and adults. She ensured that all of the young people she encountered looked at her as a big sister, aunt, or ally. In Kisha's eyes, everyone had a future. She always saw the best in people even when they doubted themselves."
-Diane Fleming, Ms. Jackson's most recent supervisor at REES
"Kisha had an open heart and cared about the well-being of others. She would take time out of her day to check in to see how your day was going. Her contagious smile would light up a room and she had positive energy to match. She will forever be in my heart."
-Finda Kofuma, REES Zone Coordinator
"The mark Kisha Jackson left is a great one, and because of this she'll never really be gone. She was an innovative leader, a supporter, and a friend."
-Sharon Bell, REES Office Manager
"Kisha Jackson was a phenomenal woman with high expectations. She inspired me to be a better leader in her community where she lived and I worked. I am glad to have had the chance to call her my friend."
-Denise Guess, Resident Engagement Department Manager
"Kisha was a generous, compassionate individual who would go out of her way to help anyone. Kisha was always positive and would say, 'Don't ever say never – you can do anything!'"
-Bernadine Thomas, Community Associate
"I'm privileged to have experienced Kisha's generosity, professionalism, and commitment firsthand. I will continue fostering the relationships established with NYCHA and REES that Kisha played a lead role in creating."
-Nigel Franklin, Workforce Development Specialist at partner Fifth Avenue Committee
"Kisha Jackson was an awesome person to work with. On countless occasions, she said to me, 'Winners win, greatness is upon you and you better act like it.' Working with Kisha on community issues, we kept our commitment, modeled integrity, and took full responsibility to make things happen. Her vision and accomplishments will forever be in my heart."
-Darold Burgess, Ingersoll Houses Resident Association President