Preserving NYCHA's Artistic Heritage

by Aaron Schraeter, Community Coordinator, Resident Engagement Department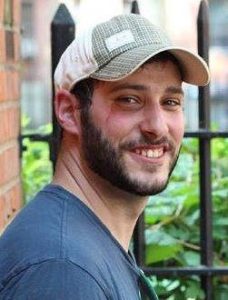 Millions of people visit New York every year to view great works of art in our City's world-class museums, yet there are scores of works by great artists throughout the five boroughs on view for free at NYCHA developments. These masters include Heinz Warneke (Harlem River Houses), best known for his iconic sculpture of the Nittany Lion at Penn State University; Costantino Nivola (Wise Towers), the national artist of Sardinia; and modern master Philip Guston (Queensbridge Houses North), known as an "artist's artist."
Unfortunately, these works have been largely neglected, and many are now damaged to a point nearing irreparability. NYCHA has an opportunity and a responsibility to become the stewards of this artistic legacy, restoring and maintaining these precious resources as we repair, rebuild and expand our housing stock.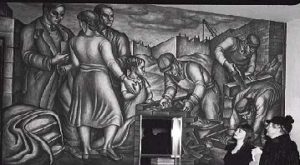 Preserving our portfolio of art is an issue of asset management. Artworks beautify the buildings and open spaces, leading to a sense of place and belonging. Ensuring the integrity of these sculptures and murals helps build a sense of community. Through resident engagement activities, we can rejuvenate these spaces, using them once again as meeting places and landmarks with which residents will identify.
Conversely, allowing artwork to continue to deteriorate will ultimately detract from social and property value, may encourage vandalism and graffiti, and could lead to accidents, such as trips or falls over pieces of crumbling sculpture or murals.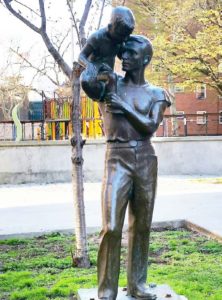 In collaboration with the Performance Tracking and Analytics Department and the Office of Intergovernmental Relations, we are locating, identifying, and recording the condition of NYCHA's entire inventory of public artworks. And, in partnership with the Office of Design, we are developing guidelines and policies to ensure its protection from additional damage during redesign and construction work.
The Authority is in a unique position to create partnerships with museums and private institutions in which we can leverage our holdings to attract additional funding and create a sustainable model of conservancy.