Personnel Announcements

A Message from Interim Chair & CEO Stanley Brezenoff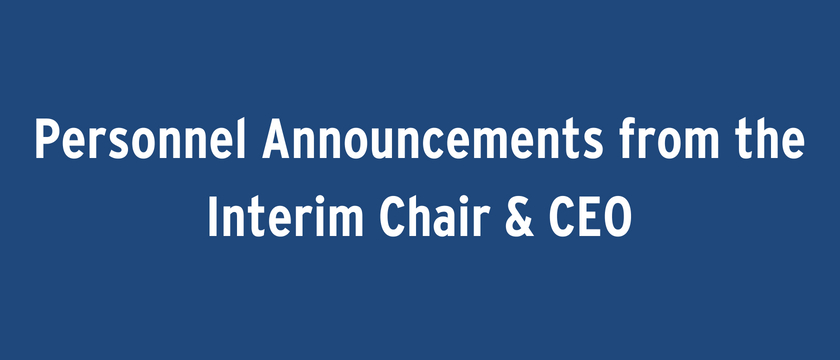 Dear Colleagues,
I am excited to announce the appointment of new senior executives to our leadership team: Plachikkat V. (PV) Anantharam as Executive Vice President for Finance and Chief Financial Officer, Kelly MacNeal as Executive Vice President for Legal Affairs and General Counsel, and Vilma Huertas as Executive Vice President for Compliance and Chief Compliance Officer. We have also named Patrick O'Hagan as Vice President for Compliance. These positions will play a critical role in our mission to strengthen NYCHA.
Today's personnel announcement demonstrates that we're developing a team to keep our progress moving in the right direction. I look forward to working with these partners to provide NYCHA residents with safe, clean, and connected communities.
Please join me in welcoming PV to NYCHA and congratulating Kelly, Vilma, and Pat on their appointments.
Effective today, Executive Vice President for Finance and Chief Financial Officer Plachikkat V. Anantharam (PV) joins us from NYC Heath and Hospitals Corporation (NYC H+H). PV comes to NYCHA with over 30 years of experience in the public sector. He has more than 25 years of experience with the NYC Office of Management and Budget (OMB). PV served as Deputy Director at OMB, overseeing the management, development, and financial reporting for the expense and capital budgets for the City's health and social service agencies. In this role, he provided strategic guidance to the human service agencies and implemented innovative approaches to maximizing State and federal reimbursement.
Most recently, PV served as the Chief Financial Officer for NYC H+H. During his tenure at NYC H+H, PV implemented new financial systems and consolidated accounting, reimbursement, and payroll functions. He led a team of finance officers in significantly improving revenue collections for the Corporation and successfully mitigated a billion-dollar financial deficit.
Born in Mumbai, India, PV received his diploma in production engineering from Agnel Technical College in Mumbai and has an MBA in finance from Rutgers University.
Kelly D. MacNeal has been appointed Executive Vice President for Legal Affairs and General Counsel effective today. She has been Acting General Counsel since February, overseeing the Civil Litigation, Corporate Affairs, Housing Litigation, Labor and Employment, Real Estate and Economic Development, Strategic Initiatives and Special Policies, and Torts divisions.
Prior to her promotion, Kelly served as First Deputy General Counsel since 2014, working with the General Counsel to supervise the Law Department staff and provide support for various business units within NYCHA. Before that, she held the role of Acting General Counsel since 2012. She joined NYCHA in 2010 as Deputy General Counsel of the Tort Division in the Law Department. While serving in that capacity, she streamlined processes while improving customer service. Prior to her work at NYCHA, Kelly was Executive Agency Counsel for the New York City Transit Authority. Kelly began her career as an Assistant Corporation Counsel for the New York City Law Department in 1989.
Kelly holds a Bachelor of Arts degree from the University of Michigan and a Juris Doctor from the University of Virginia. She is licensed to practice law in New York State and the District of Columbia. Additionally, she serves on the New York City Housing Advisory Council, is a Board Member of the Housing and Development Law Institute, and is Secretary for the Fund for Public Housing, a charitable not-for-profit organization designed to create safer, cleaner, and more connected communities for NYCHA residents
Effective July 30, 2018, Vilma Huertas will serve as the Executive Vice President for Compliance and Chief Compliance Officer for NYCHA. Since 2005, Vilma has been NYCHA's Corporate Secretary to the Board, where she acted as a key advisor to Board Members and a conduit between the Board and the Executive Team, and executed all Board Member logistics. Additionally, she oversaw the Office of Impartial Hearings, the Guardian Ad Litem Unit, and the Calendar and Documents Unit.
Vilma was previously NYCHA's Director of the Office of Intergovernmental Relations, after serving as the department's Legislative Liaison and then Deputy Director. Prior to joining NYCHA, Vilma held various positions, including Assistant District Attorney in the Bronx District Attorney's Office, Chief of Staff in the New York State Assembly, and Assistant Housing Director and Director of Economic Development for a large not-for-profit.
Vilma holds a Bachelor of Arts degree from Fordham University and a Juris Doctor from the City University of New York School of Law. She is also a graduate of the NYC Department of Citywide Administrative Services' and Mayor's Office of Operations' Management Academy Executive Development Program.
Edna Wells Handy, appointed Acting Chief Compliance Officer in December, will serve as Senior Advisor to the Chair and the Chief Compliance Officer through September 30. Her efforts to establish NYCHA's first-ever Compliance Department continue to ensure the agency can move forward in a more effective manner, meeting all regulatory obligations.
NYCHA's Director of Safety and Security Patrick O'Hagan will be promoted to Vice President for Compliance, effective July 30, 2018. Pat ran NYCHA's Office of Safety and Security for 12 years, overseeing the protection of the Authority's assets and personnel.
Onward,
Stanley Brezenoff
Interim Chair & CEO