Employees: NYCHA's Heart and Soul

A Message from General Manager Vito Mustaciuolo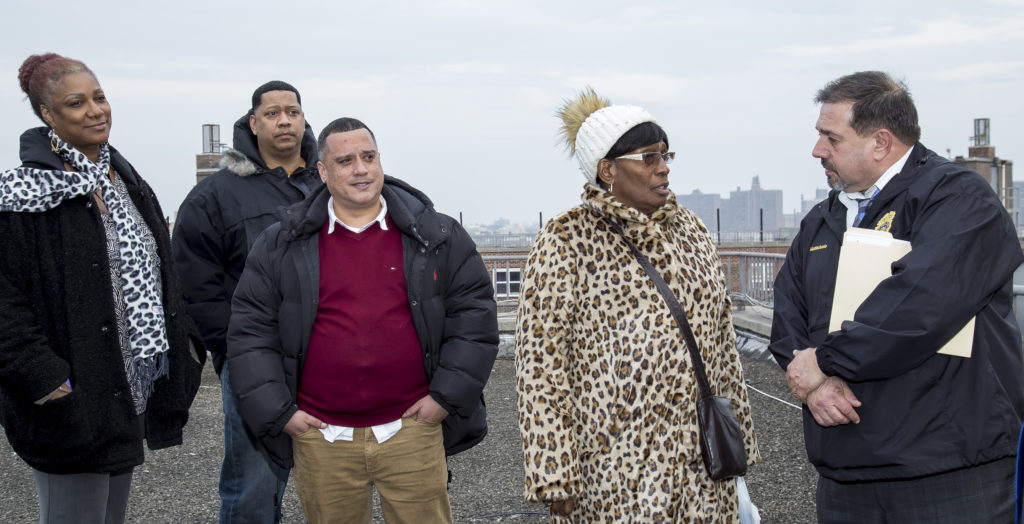 Dear Colleagues,
After a challenging couple of months and significant changes in leadership, many of you have shared your concerns and major apprehensions about the future with me. Please know, I've heard you and appreciate your honesty.
There have been moments throughout NYCHA's history that have tested the resiliency of this organization. Every time, our staff has risen to the challenge and worked to build a stronger and, yes, better organization despite the many obstacles in our way.
NYCHA's future now depends on your participation, accepting the responsibility each one of us has to not only navigate through times of transition like this but to make the Authority better in response to it.
If I've learned anything about NYCHA since joining, it's that the heart and soul of this organization is its employees. It's those who work day in and day out to improve the quality of public housing and the access to affordable housing. Those who – regardless of their titles –approach the toughest challenges with commitment, optimism, and a sincere belief that every problem has a solution.
I am pleased to announce the following appointments and organizational changes.
Derrick Cephas, Vice Chair of NYCHA's Board of Directors, will serve as Acting Chair until Stanley Brezenoff officially begins in the coming weeks.
A native of East New York, Brooklyn, Stan has worked ceaselessly for the City since 1978. Under Mayor Ed Koch, Stan served as Commissioner of the Department of Employment, Deputy Mayor for Operations, and First Deputy Mayor. Stan has also served as the head of the City's Health and Hospitals Corporation and as Executive Director of the Port Authority of New York and New Jersey. At an April 10 press conference at Ocean Bay Apartments, Stan said he's "committed to working with our residents, finding new solutions and making progress that people will see and feel in their communities."
Lakesha Miller has been appointed Executive Vice President for Leased Housing effective April 23. In this role, she will direct and guide the largest Housing Choice Voucher program in the country. Lakesha joined NYCHA in 2012 as Deputy Director for Leased Housing and subsequently served as Director of Client Services, Vice President for Leased Housing, and Acting EVP of Leased Housing since January 2018. A proven leader, she managed several functional areas, including admissions, inspections, and re-certifications, and played a key role in HUD's 2015 and 2016 Leased Housing High Performer designation.
Shireen Riazi Kermani has been appointed Director of the Healthy Homes Unit effective April 30. She will be responsible for the overall management and administration of all lead-based paint activities and compliance at NYCHA, continuing her efforts to make the Authority a trusted public steward focused on the health and safety of our residents. Shireen joined NYCHA in 2016 as Senior Advisor to the General Manager and has played a pivotal role in identifying, researching, and escalating issues related to lead-based paint compliance. She conceptualized and led transparency, data validation, and operational efficiency projects; researched regulation; interviewed staff to learn current practices; and worked alongside legal teams, earning a reputation internally and externally as a trusted expert on some of our most sensitive and critical information.
Nicole van Gendt has been appointed Human Resources Director effective May 1. With 20 years of experience in labor issues, Nicole is well-suited to advance NextGeneration NYCHA goals through excellent human resources management. She joined NYCHA in 2010 as the Executive Agency Counsel in the Equal Employment Opportunity Office. In 2012, Nicole was promoted to Chief of Labor and Employment, where she worked closely with the Human Resources Department on complex issues, including civil service law, collective bargaining agreements, and the drafting and implementation of human resources policy. Nicole has been serving as Acting Human Resources Director since May 2017.
Javier Almodovar has been appointed Acting Director for NYCHA's Heating Management Services Department effective April 6. In this capacity, Javier will oversee the borough-wide heat and hot water operations. Javier is a 28-year NYCHA veteran and proud former NYCHA resident from Jacob Riis Houses. Javier first came to NYCHA in 1989 as a participant in the NYCHA Youth Training Program and shortly thereafter became a Heating Plant Technician. He has served as Assistant Heating Superintendent, Development Superintendent, Borough-wide Superintendent and Heating Administrator, Asset Management Deputy Director, and Skilled Trades Deputy Director. Most recently he was the Deputy Director in the Heating Management Department.
Employee Engagement has transitioned from the Office of the Chair to Administration. Reporting directly to the Chief Administrative Officer & EVP for Administration, Yvette Andino will continue to serve as the Director, developing and executing long-term strategies to promote and strengthen a culture of service excellence. The Authority's Employee Engagement program aims to deepen employee awareness and support of NextGeneration NYCHA.
The Department of Procedures Development and Administration (DPDA) has transferred from Administration to the new Compliance Department. Reporting directly to the Acting Chief Compliance Officer, Robin Jackson will continue to manage the day-to-day operations. DPDA will facilitate and revise policies and procedures and provide oversight in support of the achievement of NYCHA's compliance objectives.
Please join me in congratulating all on their recent appointments. I will be sure to keep you informed of other changes and ongoing progress in building safe, clean, and connected communities.
Vito Mustaciuolo, General Manager