Opportunity through Diversity

NYCHA Employee Recognized for Outstanding Efforts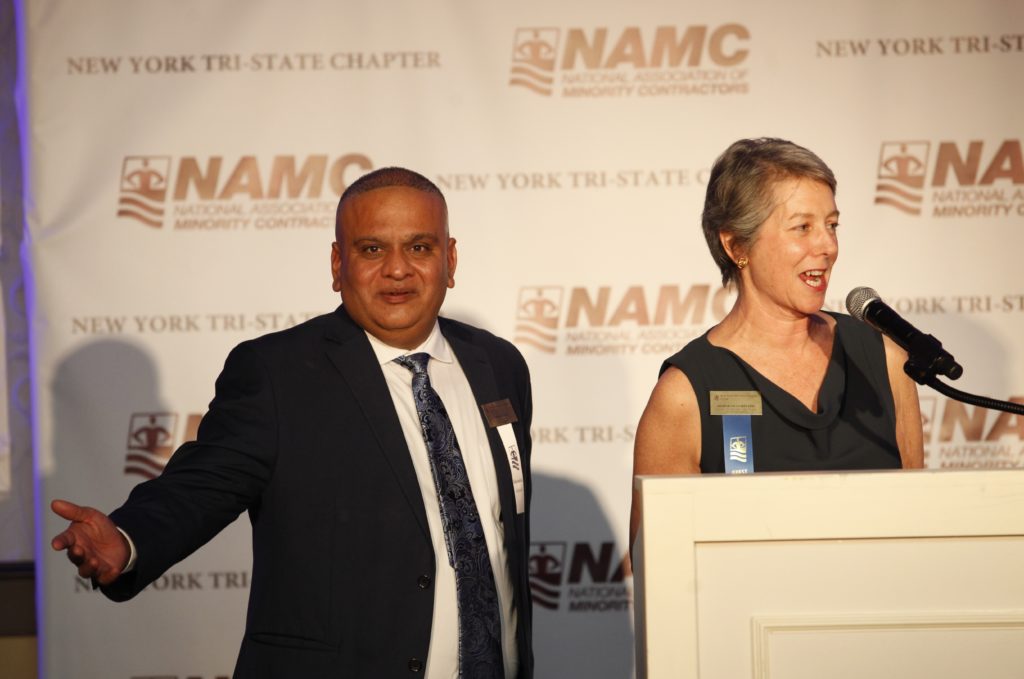 Chirag Patel, Senior Project Manager in NYCHA's Capital Projects Division, was awarded the "2018 Outstanding Achiever" award by the National Association of Minority Contractors' (NAMC) New York Tri-State Chapter during its Inaugural Gala on November 16.
According to the NAMC, the award recognizes "people and organizations that have demonstrated innovative and creative strategies to remove barriers for under-represented groups; that support women, the disadvantaged, and small businesses; and allowed for increased public and private construction contract opportunities."
"As a minority, I was deeply honored to be selected for the award," Mr. Patel said. "Capital Projects Division has a large construction portfolio, and we have many minority- and women-owned contractors that have been awarded construction projects."
Mr. Patel started his career at NYCHA 20 years ago, as a Construction Project Manager. He worked his way up the ranks to his current position, in which he manages the Mayoral Roofing Initiative and Local Law 11 building façade inspection and repair programs.
"We work as a team in Capital Projects – and it's satisfying when together we are successful in making a difference for residents," Mr. Patel noted.
Other highlights of his career include how, in 2016, Mr. Patel and his team completed the $587 million Bond B construction program ahead of schedule. And in 2010, Mr. Patel was a Project Administrator for the Mixed Finance Department, which carried out $254 million of construction projects.
Among those celebrating with Mr. Patel at the NAMC's gala were Deputy Mayor Philip Thompson, Assembly Members Michael Blake and Rodneyse Bichotte, State Senator James Sanders Jr., NYCHA's Executive Vice President for Capital Projects Deborah Goddard, and a variety of construction industry and City and State agency leaders.
According to Ms. Goddard: "Providing access to minority- and women-owned business enterprises (M/WBE) is critical to redressing historical obstacles to both wealth formation and job creation for persons of color and women and to simply allow all individuals equal opportunity to pursue their life dreams. NAMC's history goes back almost 50 years, and yet we know that work remains to be done to counter the historical obstacles that limited, and continue to limit, access to contracting opportunities. Although I'm sure we can do more, NYCHA's efforts are working. OneNYC lists NYCHA among the top three City agencies in the award of M/WBE contracts. We are aiming to be number one!"