NYCHA's Urban Fellow Looks Back At Her Experience

by Malikah Williams, Urban Fellow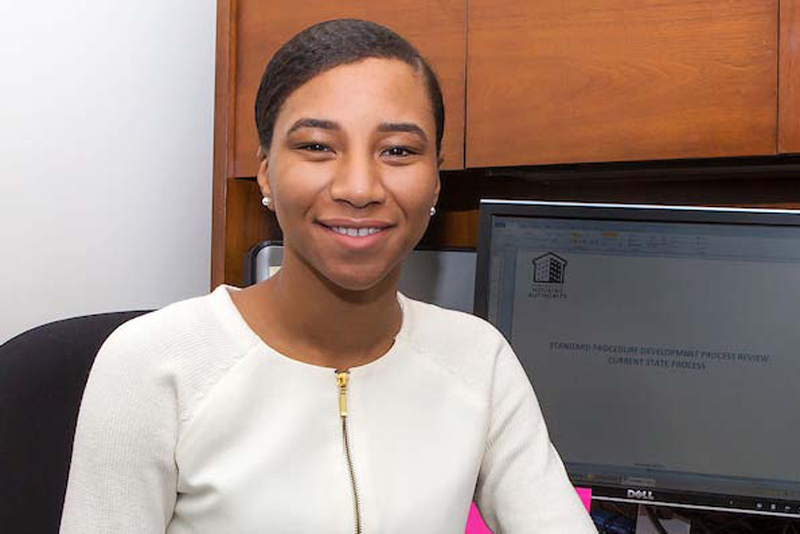 Amidst the chaos of my final semester of college—trying to do well in my classes, creating new memories with my friends, and enjoying my last few months before I had more responsibilities—my successful application to become an urban fellow was welcomed stability. New York City was my next stop and I was ready to experience all that it had to offer a girl from Virginia.
After an intense interview process, I learned that I would be placed at the largest housing authority in the nation. I had just spent four years engaged in urban studies, thinking deeply about the built environment, affordable housing, and the perils of gentrification, so I was eager to utilize this background during my fellowship.
My time at NYCHA has been both challenging and exciting. While my degree in urban studies gave me context for my work, it could not prepare me for what lay ahead. My first day at the Authority, I attended a town hall preparation session with Mayor de Blasio, a former urban fellow, and that set the tone for my fellowship. I toured developments, attended and coordinated events for our residents, and learned about how federal policy impacts the Authority. In addition to those experiences, I learned three things at NYCHA that I will always carry with me.
First, I learned that it is extremely difficult to operate an organization that is tasked with running the largest public housing and Section 8 programs in the nation after unconscionable disinvestment from the federal government. NYCHA is not perfect and it does not pretend to be, but there is a commitment to preserving and protecting public housing here that is unparalleled. Though this work is difficult, it matters because people's lives are at stake.
Second, I quickly learned that it was okay to ask questions about things that I didn't know.
Everyday something new is happening at NYCHA, and in order to keep up, I had to ask questions. This was uncomfortable at first but proved to be integral to my time here.
Last, prior to my arrival at NYCHA, I thought that being reserved would be the best approach to interacting with coworkers. However, that was not the case. Everyone at the Authority has a personality that makes them unique.
By showing my personality, I formed bonds with my coworkers that allowed me to produce my best work while feeling like a valued member of our team.
As I embark on my law school journey next fall, I will cherish the lessons that I learned at NYCHA. I would like to express my deepest gratitude for the opportunity I was afforded over the last nine months to learn and work here. I have learned so much not only about public housing and city government but also about myself.
The work that is being done at the Authority is necessary to ensure that hundreds of thousands of people have a place to call home, and we must all work to make sure that people can continue to have that home.