NYCHA's Trade Fair Levels the Playing Field
More than 200 vendors, contractors and consultants attended NYCHA's 2017 Minority-and Women-owned Business Enterprise (M/WBE) and Section 3 Business Concerns (S3BC) Trade Show at BNY Mellon in Manhattan on May 4.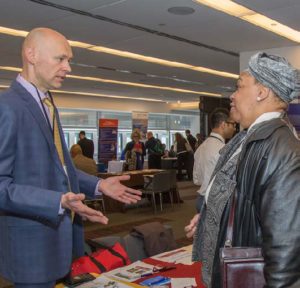 "Our trade show features representatives from New York City and New York State agencies who, like NYCHA, want to benefit from your expertise in a competitive process that brings the best value, goods, and services to their customers," Chair and CEO Shola Olatoye declared.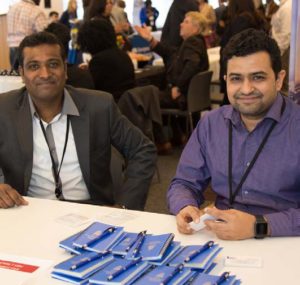 As a major economic engine for the City and the region, NYCHA purchases $6 billion of materials, supplies, and services each year. The business owners and representatives attended the procurement fair to learn how to transact business with NYCHA or companies with large NYCHA contracts, as well as other agencies and firms.
"City procurement is a strong, effective tool that we can use to level the playing field and create opportunities for the City's small businesses," said EVP for Administration Kerri Jew.
This is the second year that the procurement fair reached out to Section 3 business concerns, which are at least half owned by Section 3 residents or employ more than 30 percent Section 3 residents. And this is the first year that several M/WBEs already doing business with NYCHA were among the 28 agencies and six prime contractors offering contracting opportunities.
Kishor Majithiya, a manager with Neelham Construction, a minority-owned business firm, remarked: "When we started attending NYCHA's fairs, we were looking for work with a prime contractor. But now we've grown to become a prime contractor ourselves, and we're looking to hire others," he said. "Knowing that agencies like NYCHA are ready to help gives you extra comfort and encourages you to be an entrepreneur."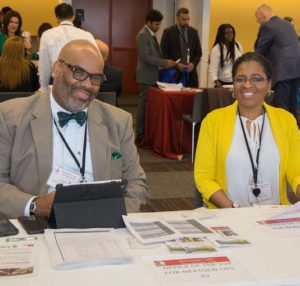 Anu Kumar, a director of ITT, also credited NYCHA with helping to grow his business. "We were invited because we helped provide IT staffing services for NYCHA since 2012," Mr. Kumar said. "We have the credentials, but we needed somebody to say, 'We believe in you.' NYCHA gave us a chance to grow our business in the New York City area," he said.
Angelo Curto, with Adam's European Contracting, Inc., a woman-owned firm, was seeking to hire NYCHA residents to meet NYCHA's Section 3 bid requirements. "Some people we hired for our first project in 2015 for Ravenswood Houses are still working with us now as full union members," he said.
Standing amid the hubbub of business conversations and friendly networking, Senior Deputy Director in Supply Management Ester Tomicic-Hines, who works for months each year to organize the trade fair, said, "This is what it's all about: People making connections and expanding their business opportunities. It's truly a labor of love."