NYCHA Youth Can Get Paid While They Learn

Through the Summer Youth Employment Program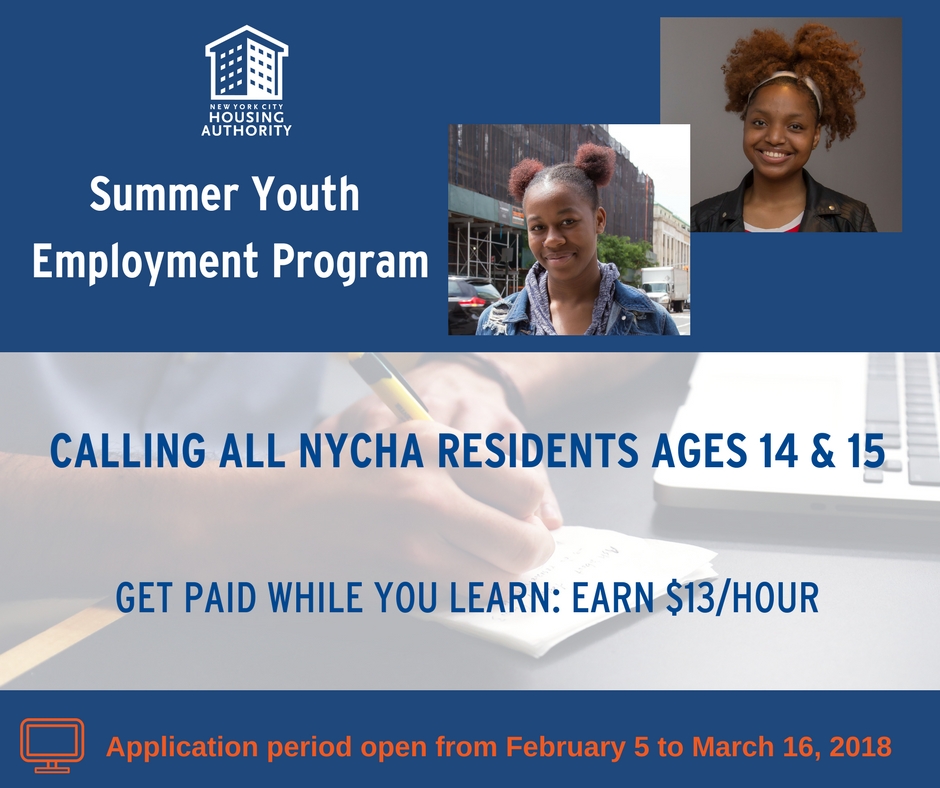 Know any youth looking for a summer job? There are two exciting ways for young NYCHA residents to earn money while gaining important career skills through the Summer Youth Employment Program (SYEP).
NYCHA SYEP for 14- and 15-Year-Olds
NYCHA's Summer Youth Employment Program is a lottery-based program that provides minimum wage ($13/hour) summer work assignments to residents ages 14 and 15. Participants work at NYCHA or NYCHA-partner locations doing clerical, customer service, janitorial, service learning support tasks, and more. In addition to a 15-hour work week, five hours of career exploration and development workshops are included each week. Youth get paid while they learn!
Apply online at http://www1.nyc.gov/site/dycd/index.page and select NYCHA as the worksite provider.
SYEP Guaranteed Spots for Residents 14 to 24 Who Live at MAP Developments
As part of the Mayor's Action Plan for Neighborhood Safety (MAP), 14- to 24-year-old residents from 15 developments are guaranteed summer work assignments through SYEP. If they live at Boulevard, Brownsville, Butler, Bushwick, Castle Hill, Ingersoll, Patterson, Polo Grounds Towers, Queensbridge, Red Hook, Saint Nicholas, Stapleton, Tompkins, Van Dyke, or Wagner, they can apply now at http://www1.nyc.gov/site/dycd/index.page.
The SYEP application is available through March 16, 2018. For more information about SYEP, call DYCD Youth Connect at 1-800-246-4646.
Note: NYCHA residents 16- to 24-years-old who do not live at MAP developments may also apply for the Department of Youth & Community Development's SYEP program by selecting a different provider at the link above.