NYCHA Marks Sandy Anniversary with Major Projects Underway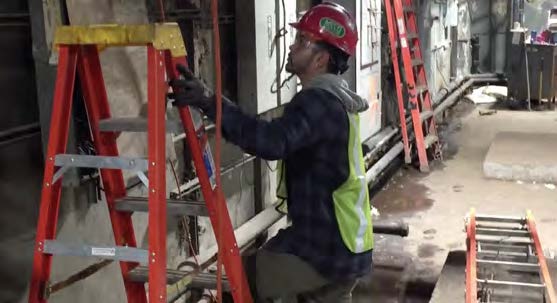 NYCHA marked the fourth anniversary of Superstorm Sandy with a construction and hiring boom. At this time last year, major construction was underway at one development–– the Lower East Side Rehab Group 5. In the past year, the Authority has broken ground on three additional major recovery projects. As these projects are ramping up major construction, the recovery and resiliency efforts at Lower East Side Rehab Group 5 are nearing completion.
"On the anniversary of Hurricane Sandy, we are proud to announce NYCHA has made major progress in the recovery effort—moving large-scale, multi-million-dollar projects forward with shovels in the ground and connecting residents to economic opportunities in the process," said Chair and CEO Shola Olatoye. "As NYCHA builds back stronger and more resilient than ever before, we are committed to seeing the recovery effort through, improving residents' quality of life and ensuring our developments are protected for this generation and the next. "
The major Sandy recovery projects underway include an $88 million project at Astoria Houses, a $41 million project at Coney Island Sites 4 and 5, and a $67 million project at Ocean Bay-Oceanside. Work includes comprehensive upgrades to damaged areas, including roof replacements, stand-by generators for backup power, new electrical systems and flood-protected equipment buildings; resiliency measures to prevent flooding; and site-wide improvements, including upgraded playgrounds and exterior safety lighting.
Over $423 million in other federal disaster assistance and insurance payments have funded preconstruction work at 23 developments. Initial repair and preparatory work includes boiler demolition and restoration, asbestos abatement, replacement of electrical wiring, and renovations of more than 300 first-floor apartments damaged by the storm. So far, 232 apartments at 10 developments have been fully renovated and restored.
Section 3 Careers
NYCHA is also working to strengthen pathways to careers and economic opportunity for residents. More than 220 low-income New Yorkers have been employed through Section 3 on Sandy-related contracts to date, and more than half are NYCHA residents.
Additionally the Authority is planning to launch a pre-apprenticeship training and placement program to connect residents to promising careers in the construction industry. Participants will receive access to job training and direct entry into skilled trades unions working on Sandy construction projects at NYCHA developments.
Sandy by the Numbers
219 buildings damaged
$3 billion FEMA funds awarded
$423 million spent to date
127 NYCHA residents hired for recovery work to date
4 major projects to repair 18 buildings housing over 3,100 residents started
232 first-floor Sandy-damaged apartments renovated
23 developments undergoing repair or recovery work
110,000 flyers on Sandy meetings, events, and construction updates delivered to residents
From April 2014 through Oct. 2016, NYCHA organized, attended, or participated in more than 1,385 Sandy-related meetings
$201 million in major construction underway in 2016; $5.2 million in progress in 2015