NYCHA Celebrates Black History Month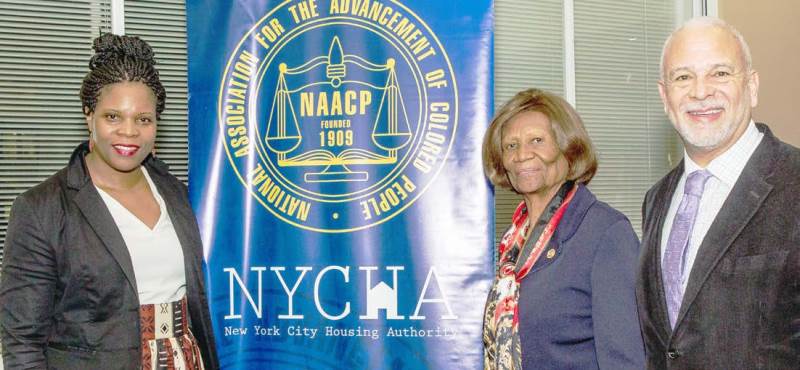 NYCHA's NAACP branch held its Black History Month celebration in the 90 Church Street Ceremonial Room on February 25. Marked by music, dance and high spirit, the reception celebrated the contributions of African Americans to every aspect of national life. The gathering also recognized the many ways that the NAACP branch, established in 1969, is continuing the struggle for social justice while advancing NextGeneration NYCHA goals.
General Manager Michael Kelly noted that the celebration's theme — "On These Shoulders We Stand" — "recognizes the contributions of African Americans to our great City and country." Quoting Carter G. Woodson, the founder of Black History Month — after whom Woodson Houses is named — GM Kelly stated, "One cannot tell the story of America without preserving and reflecting on the places where African Americans have made history." The General Manager continued, "He would surely have appreciated NYCHA's mission to protect and preserve this nation's largest source of truly affordable public housing for the hardworking men and women, more than 45 percent of them African Americans."
General Manager Kelly also recalled his early work as an intern at the NAACP in San Francisco during a time of gentrification, when communities of color were being pushed out of the Fillmore District (comparable to Harlem). NextGeneration NYCHA "is a conscious effort to preserve the diversity of New York City by preserving public housing, not only by fixing elevators but by recognizing the power in our families and making them stronger," he said.
Guest speaker Hazel Dukes, president of the NAACP New York State Conference and member of the National Board, emphasized NYCHA's importance as an institution that fosters safe, clean and connected communities. "We must be proud of NYCHA and respect it," she said, "whether you're a resident, tenant leader or an employee." Noting that Chair and CEO Shola Olatoye was in Washington, D.C., fighting for additional funding, Dr. Dukes remarked: "In the news today, people are trying to take away what we gained. We must remember that no man or woman can get any place by themselves." Returning to the theme of the celebration, she stated, "We must continue daily to show people that we stand on shoulders. New York City will be a better place … because of the shoulders we stand on, names you will never know, faces you'll never see."
Earlier in the evening, NYCHA's NAACP president Lynn Spivey cited some of the branch's goals, which included: strengthening its partnership with NYCHA's Executive Department, reactivating NYCHA's youth chapter, increasing voter registration, supporting educational workshops for parents on advocacy in the school system, and fostering financial literacy, among others.
"You don't have to be a prominent politician or business person to have an impact on someone else's life," Ms. Spivey said. "It takes ordinary people willing to make a commitment and understanding that change is not an event but a process."
Ms. Spivey encouraged employees interested in knowing more about NYCHA's NAACP branch to call 347- 669-2421 or email the branch at nychabranch@gmail.com.