NYCHA as Classroom for a Future Leader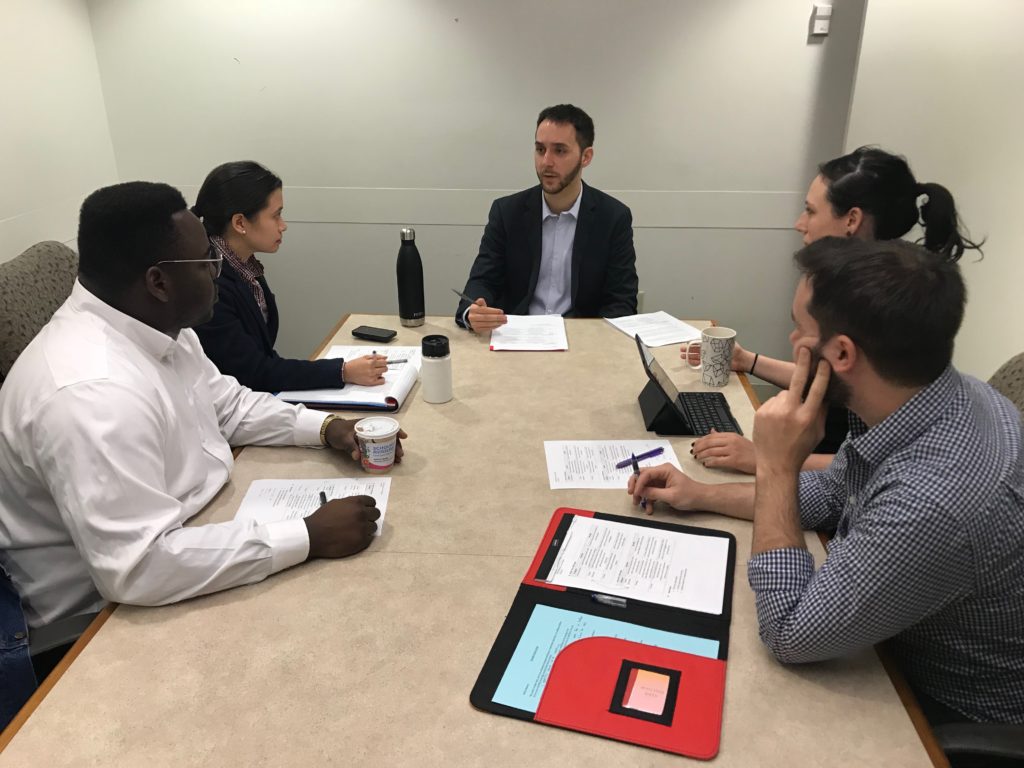 For five weeks, Evan Solomon experienced the ins and outs of a large, fast-paced governmental agency, when he worked at NYCHA as part of the Coro Fellows Program, a post-college leadership program where the city is the classroom.
Mr. Solomon is a Public Affairs Fellow in the program, which was founded in 1942 to prepare citizens as leaders. Fellows participate in seminars, networking, and field placements, and they complete special projects during their nine-month term. In addition to New York, the program has leadership centers in Los Angeles, Pittsburgh, and San Francisco. Notable alumni include Senator Dianne Feinstein Senator Michael Bennet, San Diego Mayor Kevin Faulconer, and New York City Council Member Carlos Menchaca.
At NYCHA, Mr. Solomon worked with the Healthy Homes Department's Office of Mold Assessment and Remediation (OMAR). His main project was to conduct a focus group with employees to help increase staff engagement during the Mold Busters citywide rollout. Mold Busters is a program to better combat mold by finding and treating the source of mold to prevent recurrence. It began as a pilot in 2017 at 38 developments and will be rolled out to additional developments in January 2019 and across the Authority by December 2019.
Of the focus group, Mr. Solomon said, "I learned about the decades of service many employees have. One employee said he had 'only' worked at NYCHA for 12 years. Many people had been with the agency for over 30 years, while some had exceeded 40 years! With approximately 10 employees, we had over 220 years of service in the room. To me, this was a true testament to the family atmosphere at NYCHA and the dedication many feel to the agency."
The culmination of Mr. Solomon's placement at NYCHA was a presentation titled "Mold Is Not Just About Mold: My Time at NYCHA," where he discussed what he learned about topics such as working at NYCHA, mold, Mold Busters, and employee engagement.
At the end of Mr. Solomon's presentation, General Manager Vito Mustaciuolo congratulated him and thanked him for his work: "You have an enthusiasm that will help you thrive. That's what made me decide to stay. Two months in, I had been meeting with folks who had that same enthusiasm and drive as you, who worked and lived at NYCHA. Coming to NYCHA has re-energized me."
Mr. Solomon said his time at NYCHA was valuable: "Coming in as an outsider, I gained a much deeper understanding of how NYCHA runs internally, how departments interact with each other to achieve the agency's mission, how individual employees can create change in the agency, and how the history of NYCHA informs much about the agency today."
Mr. Solomon, who holds a Bachelor of Arts and Master of Arts from Fordham University, thanked the staff he worked with for helping him learn more about his professional strengths and areas for improvement, which he will focus on during the remainder of his fellowship. He is thankful for the guidance and support he received from the OMAR team: Chloe Gutelle, Director; Andrea Thomson, Senior Analyst; Marlon Forbes, Senior Operations Project Manager; and Ryan Hall, Community Coordinator, as well as Marvin Jean-Jacques, Mold Administrator in the Technical Services Department.