Save on Commuting Costs with the NYC Commuter Benefits Program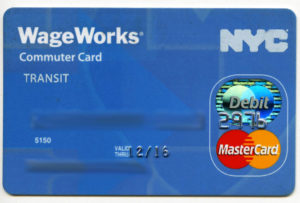 Take advantage of big savings in commuting costs with the Commuter Benefits Program. You can deduct up to $130 a month from your taxable income for MTA, LIRR, N.J.Path and other mass transit expenses, and up to $250 a month for qualified commuter parking. This can save you more than $400 a year in tax—or up to 40 percent of your commuting costs— depending on your income level.
You can select from five Commuter Plan Options paid for through automatic payroll deduction.
Commuter Card Plan: The most popular choice for NYCHA employees, this plan provides a commuter card that is used like a credit card to purchase MetroCards or other transit fares. You can select the Unrestricted Option that lets you set your own payroll deduction amount (and has an administrative fee of $1.77 a month) or the Regular Commuter Card that deducts $116.50 a month (the cost of a 30-Day Unlimited Ride MetroCard) with no administrative fee.
Transit Pass Plan: This plan allows you to arrange for home delivery of your transit passes and tickets.
Premium TransitChek MetroCard: Provides an annual Unlimited Ride MetroCard valid for unlimited rides on MTA NYC for a 12-month period.
Access-A-Ride/Paratransit Plan: Allows for participation in the MTA's Access-ARide program or other paratransit provider programs.
Park-n-Ride Plan: Uses pre-tax and post-tax payroll deductions to pay for transit-related parking.
"Most employees prefer the Unrestricted Commuter Card Plan because that gives you the most flexibility," said Susan Mathew in the Payroll Department. "With the Regular Commuter Card, if you take a week off, you might not use that time, which you are paying for. But the most important thing is to pick the plan that is best for you. Too many employees are passing up this opportunity to save hundreds of dollars a year."
You can enroll in the Commuter Benefits Program by contacting Ms. Mathew at 212-306-6824, or by email at Susan. Mathew@nycha.nyc.gov. Additional information is available at https://www.eworks.