News from the Chair on Funding

Congress Increased Capital Dollars by 46 Percent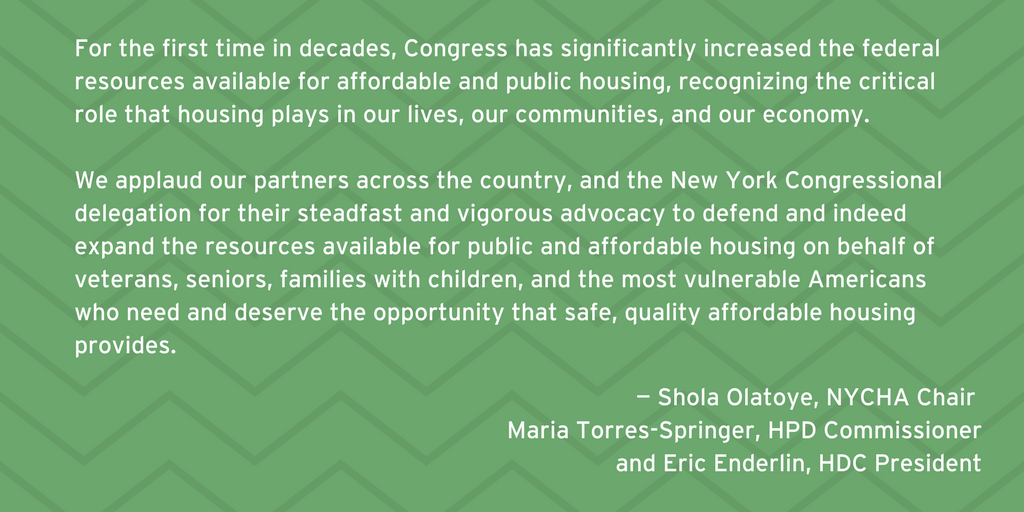 Dear Colleagues,
I am pleased to be able to share some very significant and positive news with you. Congress passed a bill that increases our funding to levels we have not seen in decades.
We will be able to more aggressively address repair needs in our buildings with a 46% increase – $160 million more – in capital funding for the next year. As you all know, for too long, we have not had enough money to take care of the repairs our buildings desperately need. This increase is a welcome move in the right direction, but we must be clear that this is not enough. Our funding needs are far greater than this bill alone can address.
To truly address NYCHA's challenges, we need Congress to make these funding levels the start of a permanent investment in public housing.
I am grateful to all of our allies who have long supported public housing and pushed to make this happen. These champions have helped us see what I hope is the start of a new day in public housing. The 1 in 14 New Yorkers who rely on us for housing deserve consistent and adequate funding so we can achieve our NextGeneration NYCHA goal to provide safe, clean, and connected communities.
 Onward,
Shola Olatoye