MyNYCHA Wins Government Digital Experience Award

Innovative Tool Makes It Easier for Residents to Request Repairs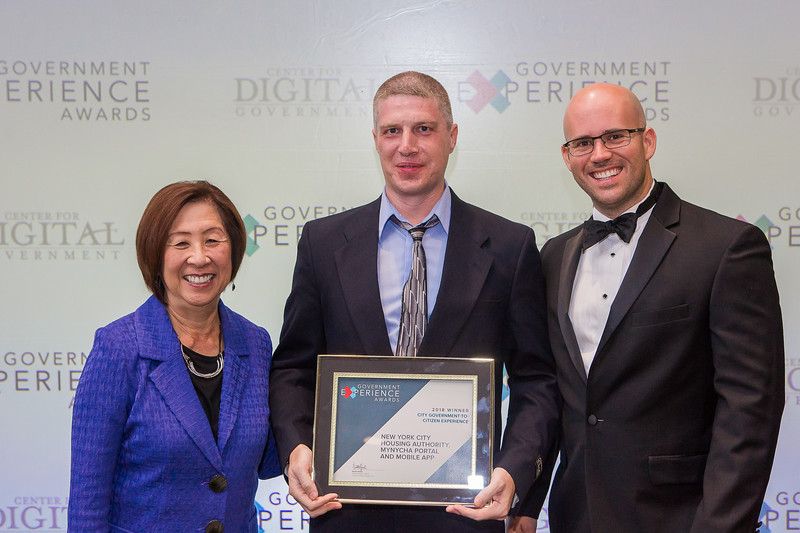 The MyNYCHA portal and mobile app was recently recognized as a digital tool that improves services for residents when it was named winner of a 2018 Government Experience Award by the Center for Digital Democracy.
The Center is a national organization focused on technology policy and best practices in government. Its Government Experience Award is an annual competition that recognizes states, cities, and counties that use digital resources to improve the government experience for its citizens. MyNYCHA won in the City Government-to-Citizen Experience category.
The ceremony was held in Austin, Texas, on September 28. Mark Lontsman, CPT Systems Manager in NYCHA's IT department, accepted the award on behalf of the MyNYCHA project team.
"The MyNYCHA app was a product of several key NYCHA IT teams working together to create the first mobile app for the Housing Authority," Mr. Lontsman said. "With a 34 percent usage rate, over 937,000 tickets created, and over $2.8 million saved, the app has proven itself as a great success. It was an honor to be one of the developers of the app and to accept the award on behalf of everyone who contributed to its development."
Launched in 2015 to improve customer service, MyNYCHA is a free service that puts the repair process in residents' hands by allowing them to submit, schedule, and manage work tickets on a mobile device or via the web. Residents can also subscribe to alerts for outages in their developments, view inspection appointments, and pay their rent.
MyNYCHA was developed by NYCHA's IT Department, spearheaded by NYCHA's Chief Information Officer Bob Marano. The MyNYCHA team includes Mr. Lontsman; Jacqueline Broner, Chief Digital Designer; Aaron Trauring, Project Manager; and Sandip Shah, Business Solutions Architect. Additional kudos go to IT staff Rudolph Kurkjian, Vice President and Chief Technology Officer; Venkata Chitrapu, Deputy Director, CRM Applications; Aleksandr Gelbert, Deputy Director; Dattatri Ganeshmurthy, Oracle DBA Manager; and Rajat Lala, Computer Systems Manager.
"I am extremely proud that NYCHA was recognized for its groundbreaking mobile technology," Mr. Marano said. "The MyNYCHA app and portal is a great example of cross-departmental cooperation to build an empowering solution for our residents."