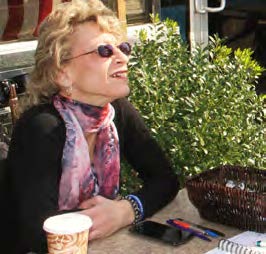 Most of us have never heard of arthrogryposis multiplex congenita (AMC) and probably can't even pronounce it. Administrative Staff Analyst in Energy Sustainability Valerie Pepe doesn't say it much either because she refuses to think of herself as a person who is limited in any way. But she does mention it in her recently published book, "Deformed—My Remarkable Life," which describes her successful struggle to overcome the crippling disease to live a normal life.
"I didn't know I had a condition," Ms. Pepe says, recalling how her parents refused to treat her differently as a child. Not being able to ride a bike or run didn't prevent her from being included with friends. Only in college—after 12 prior operations that required her to learn how to walk again seven times—did being "different" finally hit home.
"I was lucky and didn't have it so severe compared to other people," she says. Serving as founding chairwoman of the annual AMC Music Festival on Staten Island, which has raised $55,000 for research, Ms. Pepe knows many people with AMC. The monies raised are donated to the non-profit Arthrogryposis Multiplex Congenita Support, Inc., which helps affected families, adults and children. Since 2005, this non-profit has grown from 60 to 800 members internationally.
"People in the group email and Facebook me because they admire what I've been able to do. I encourage the children and tell their parents to give them 'tough love,' like mine did," Ms. Pepe says.
The hardest part is that there's not treatment or medication for the condition after the age of 21, and many doctors never even studied it, she explains. "My parents were role models; they worked hard and expected me to do the same."
That attitude enabled Ms. Pepe to work two jobs while attending St. John's University as an undergraduate and graduate student. While working at NYCHA, she later earned a Certificate in Writing from New York University. When one of her professors suggested that her own experience could be material for a book, Ms. Pepe realized that she had a story to tell.
"My book is about a woman who lives a life like everybody else and met wonderful people along the way because of my condition," she says. "I'm lucky to be born this way because otherwise I wouldn't have all these people in my life. You don't need to have a disability to read this book; it's about life and what people go through."
The book can be ordered from Amazon here.