Meet Denise Beverly

REES Assessment Specialist/Community Coordinator
NYCHANow is introducing a new feature in which employees write about their careers at the Authority. If you'd like to share your story, please send an email to nychanow@nycha.nyc.gov.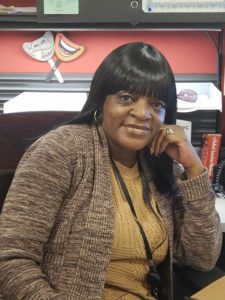 Since October 2007, I have worked at REES's central office at 787 Atlantic Avenue in Brooklyn. On Tuesdays and Thursdays, I conduct one-on-one assessments and use the Siebel system to refer residents to various local programs from partner organizations, which includes adult education, vocational training, financial empowerment, employment and advancement, and resident business development services, as well as employment recruitment events. I also facilitate REES Information Sessions and NYCHA Resident Training Academy (NRTA) assessment exams, including at off-site venues.
Here's one success story: In March 2013, I assessed Gerron Deroy after he attended a REES Information Session and referred him for the "Green Maintenance for Buildings" vocational training at the New York City College of Technology. After he graduated, Mr. Deroy enrolled in the NYCHA Painter's Apprenticeship program. He's now working as a painter at Columbia University.
This March, I'm celebrating my 25th year at NYCHA. I started my career at NYCHA as a Community Service Aide in 1994, working for NYCHA's Department of Community Affairs as an outreach community worker for the Queens Borough President at the time, Claire Shulman.
In 1997, I was promoted to Community Assistant. In the Department of Community Operations, I worked with the Queens Citywide Council of Presidents (CCOP) as a HOPE VI Liaison; I traveled to public housing sites in Atlanta, Detroit, and Texas and throughout the Rockaways (i.e., Arverne/Edgemere Houses) to address a revitalization plan to restore and rebuild them through HUD policies, an initiative that involved residents' participation.
I'm a NYCHA resident, too; I moved into Arverne/Edgemere Houses in 1973 (now known as Ocean Bay Apartments) and transferred with my three children to Beach 41st Street Houses in 2001, where I currently reside.
I love working directly with residents, primarily to refer them to NYCHA's provider partners and community-based organizations so they can obtain the resources that will help them become self-sufficient. My motto is what REES stands for: Resident Economic Empowerment & Sustainability.