Meet Andy Destin, Newest Member of the Chair's Team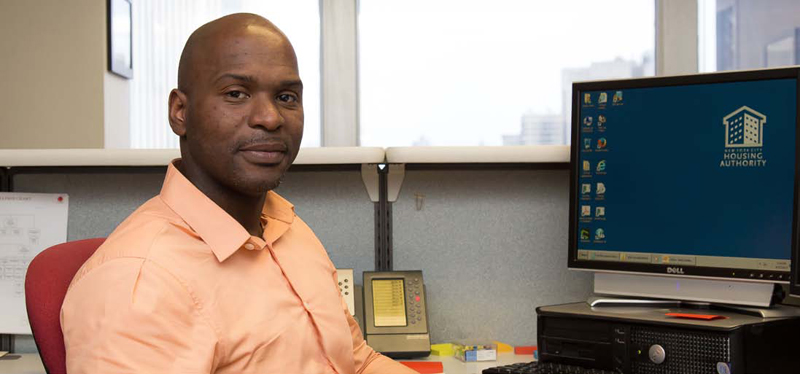 Five years ago Andy Destin, a private-sector management expert with 10 years of retail industry experience, decided that he wanted a stable career at the Housing Authority. So he accepted the first position offered to him: clerical aide in General Services.
It didn't take long, however, for Robin Wall and Alexander Ho, Andy's supervisors, to recognize his potential and task him with management of resident mailings, then print jobs. Eventually Andy became not only General Services' resident problem solver, but also the supervisor of the 90 Church Street mail center, where he managed eight employees—a position his supervisor once held.
Now Andy is Chair and CEO Shola Olatoye's executive assistant. His duties include coordinating and updating the Chair's schedule, taking incoming calls and emails from internal and external parties, and applying his finely tuned customer service skills to visitors and callers for the Chair. "I love dealing with people," Andy explains. Add to that his zest for efficient organization, diligence, and attention to detail, and you have the complete package.
"We liked his can-do attitude, the energy he brought to this job, his experience managing multiple responsibilities in a fast-paced environment, and his goal to always provide excellent customer service," said Yvette Andino, Director of Employee Engagement and Special Assistant to the Chair. "We're excited to have him on board."