Learning to Move Mountains

Alex Mathew Graduates from the City's Management Academy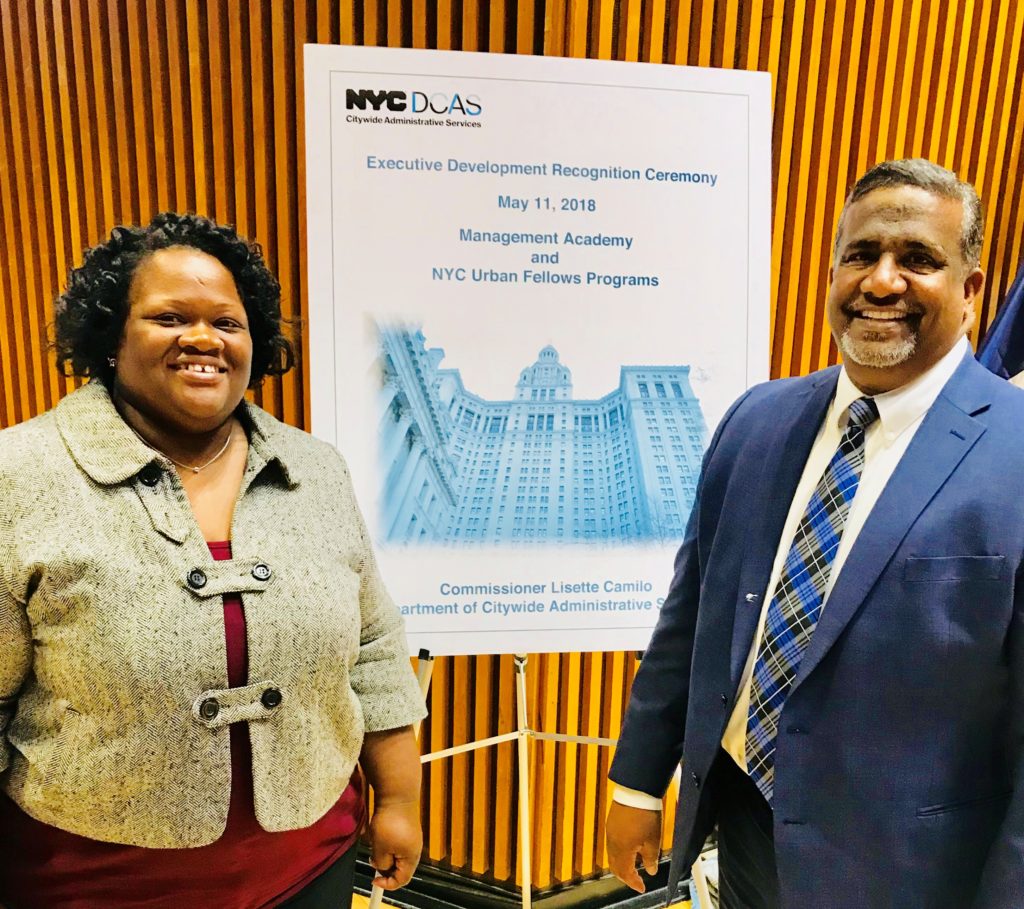 Through day-long, weekly workshops each spring, the City's Management Academy helps new and emerging leaders in city government become better managers. NYCHANow spoke with a recent graduate, Alex Mathew, Deputy Director in the Leased Housing Department, about his experience in the program.
Why did you decide to participate in the Management Academy?
I first learned of the Management Academy from my supervisor, and I was immediately interested and excited to be recommended on behalf of NYCHA's Leased Housing Department.
Executive Vice President of Leased Housing Lakesha Miller said that, "Investing in professional development helps ensure that staff are ready for NextGeneration NYCHA." How did you benefit from your participation in the Management Academy?
It was a great experience for me. The Academy's motto is "Moving People, Moving Process, and Moving Mountains." That involves learning various skills and recognizing the value of emotional intelligence and data. I was very pleased to see how much more I could learn just by sharing and listening to everyone's experiences and ideas. I also discovered so much about what other City agencies do for New Yorkers.
How will your participation in the Management Academy guide your work at NYCHA?
I have a lot more confidence in my ability to communicate with my staff and share ideas with my superiors. I also learned to be a good listener and am now more open to thinking outside the box when necessary.
What are your responsibilities at NYCHA?
I am the Deputy Director for the Leased Housing Department (LHD) at the Brooklyn office, where there are 84 staff. I oversee the units responsible for applications, briefing reviews and rental transfers, correspondence, and court and restoration activities.
What's your career story at NYCHA?
I started my career here in 1993 as a Housing Assistant in LHD's Rental Unit. In 1996, I was transferred to LHD's Fraud Unit and was promoted in place as an Assistant Housing Manager. In 2005, I was promoted to Housing Manager of the Section 8 Management Assessment Program (SEMAP) Audit team. In 2011, I was promoted to Assistant Director of the Central Office units, and in 2014 I was promoted to Deputy Director of the Brooklyn Leased Housing Department. Before coming to NYCHA, I earned my master's degree in mathematics in India.
What's most gratifying about working at NYCHA?
The ability to assist families who are in desperate need of affordable, permanent housing, especially our disabled and homeless veterans.
What does the NextGeneration NYCHA vision mean for the Leased Housing Department?
LHD is an important part of the work to secure other funding sources. The Section 8 program is being used to maintain the "Unfunded Units" and RAD conversions. For the past two years, LHD has been recognized by HUD as a high SEMAP performer. I am proud of my staff and fellow colleagues for this accomplishment, which was not easy. NextGen NYCHA helps us strive to continue to be high performers every year.
Any interesting upcoming initiatives at LHD?
LHD's application unit will be issuing 2,000 vouchers in the coming months. LHD also continues to make strides with implementing new technologies, such as the enhanced online self-service portal for property owners.