IT Service Desk Offers Do-It-Yourself Options

by Debbie Pitts, Special Assistant to the Vice President, Office of the Chief Information Officer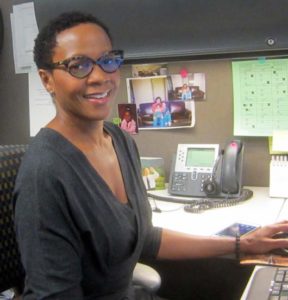 Want more independence at work? The next time your computer breaks down or your printer misbehaves, create your own NYCHA Service Desk ticket! No hanging on the line or spending time composing emails. With the self-service feature of the new Service Desk, you are empowered with the option to create your own ticket to report any problem that you're having! With no waiting, self-service is continuously open to you!
An important feature of the Service Desk is the knowledge base. The knowledge base contains step-by-step instructions on how to address most common issues such as passwords, PC not powering up, and printing, as well as links to application user guides. This empowers users to resolve issues on their own without having to create a ticket or waiting for someone to get back to them.
Consistent with NextGen NYCHA's goal to transform to a digital organization, the Information Technology (IT) Department created the NYCHA Service Desk application, which was launched in May 2016. Since the launch of this application, the number of open tickets has been significantly reduced.
Replacing the old Remedy Help Desk system, the self-service desk improves customer service with a new responsive design format that is easy to use. The new system also provides improved reporting, with visibility and transparency into the details of IT Help Desk requests.
In August 2016, a pilot for self-service was launched, initially for all IT staff; shortly after, it was expanded to staff in the Finance, Law, and Capital Projects Departments. On September 8, the application was introduced to all NYCHA employees who utilize IT applications or services.
"I am extremely pleased that we were able to bring self-service to the NYCHA Service Desk," said Chief Information Officer Robert Marano. "Self-service is an empowering and transparent way to do business. It was a simple idea and not hard to implement. But it makes a big difference for our users and helps us operate more efficiently."
In addition to creating Service Desk tickets and enabling access to the knowledge base, employees have an opportunity to provide feedback, including suggestions for improving the self-service experience. They can also utilize the Quick User Guide, which provides easy-to-follow instructions.
The Service Desk's self-service feature can be accessed by clicking on the Service Desk link at the top right of the NYCHA Connect homepage.
"The self-service feature of the NYCHA Service Desk is a great idea and the application is very user friendly," said Charles Berrouet, administrator of data support in the Capital Projects Department. "I like that the user can see the status and age of the ticket at any time and the requester can attach documents or screenshots to add clarity."
So the next time you need assistance with your IT-related issues, try creating your own ticket and enjoy the satisfaction that you did it yourself! And be sure to let us know about your experience.
Key Features
• Create and edit your own self-service ticket(s)
• Monitor progress of your ticket(s)
• Complete the user satisfaction surveys
• View closed tickets
• Provide feedback
• View FAQs and knowledge base