Interview with Director of Safety and Security Pat O'Hagan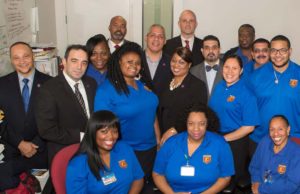 The Office of Safety and Security (OFSS) has four units. What are some recent accomplishments or goals for each?
Our Security Unit is responsible for credentialing of employees and others at layered access control (LAC) developments and also provides access control and response at central office and walk-in locations.
The expansion of our role in ensuring secure workplaces and residences is our greatest accomplishment. This is on display daily in our Safety and Security Command Center (SSCC) where staff may go from handling elevator entrapment calls from residents, to an employee filing a security concern, to monitoring any of the LAC locations in the portfolio. Our goal is to coordinate and establish a safe and secure working and living environment for employees and residents.
Our Safety Unit ensures the safety of our workforce. It responds to requests for information and helps developments and departments comply with NYCHA's safety procedures. Some of their accomplishments include helping to create a safety culture at the Authority beginning with development staff; empowering safety associates and their supervisors to follow safe working practices; supporting the work of seven safety congresses; and establishing the new Safety Forum and planning the yearly safety symposium. The unit's overall goal is to help the entire Authority meet the goals in this year's Safety Strategic Plan.
Next is our Community Safety Strategies Unit. This group is charged with developing innovative strategies and developing external funding to increase public safety. Toward this end, this unit developed and implemented a Civil Remedies Enforcement Program to leverage our significant investment in security technology to enhance existing programs.
Finally, we have our well-known Resident Watch program, with more than 3,000 residents at 120 developments. These individuals have served as "the eyes and ears" at their development to provide a community-based watch effort. Resident Watch has recently merged with the City's Community Emergency Response Team, where they can receive special training to assist not only developments but the larger community.
What is the most important change you've seen in your 10 years as OFSS director?
This is summed up in one word: focus. I have seen the expanding focus on issues related to resident and employee safety and security but especially employee safety.
The issues you deal with can prevent serious injury or even loss of life. How does it feel to handle such a profound responsibility?
The difference that a safety and security practitioner can make in a person's life is what drew me to the profession over 25 years ago. It is a challenge that my team and I understand clearly and relish.