You'll Want to Get an IDNYC Card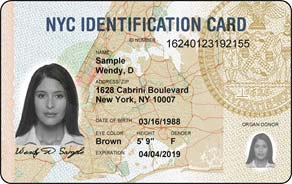 If you think that IDNYC—the City's government-issued identification card—is only valuable to people without government-issued photo IDs, think again. In addition to providing legal identification and access to City services, IDNYC brings many other advantages.
Free, one-year memberships at 33 of the City's leading cultural institutions, including the American Museum of Natural History, Lincoln Center, the Brooklyn Academy of Music, and the New York and Brooklyn Botanical Gardens.
It can be used as a library card at any of the City's public libraries.
It provides access or discounts to many financial and public health institutions, like the Municipal Credit Union, Carver Federal Savings Bank, NYC Parks and Recreation Centers, and 22 YMCA centers citywide.
Good for five years, the IDNYC is available by appointment at 15 citywide Enrollment Centers. To make an appointment to enroll in the program at a center near you, visit http://www1.nyc.gov/site/idnyc/card/howto-apply.page. The IDNYC card is only free until the end of 2015. If you're interested, call 311 today or visit the website to make an appointment — interest is so high, you might have to wait up to a month to apply! If you bring a New York State driver's license, learner's permit, or a non-driver's ID with a New York City address, you won't need any other documents.