Housing Court 101

Development Staff Learn the Basics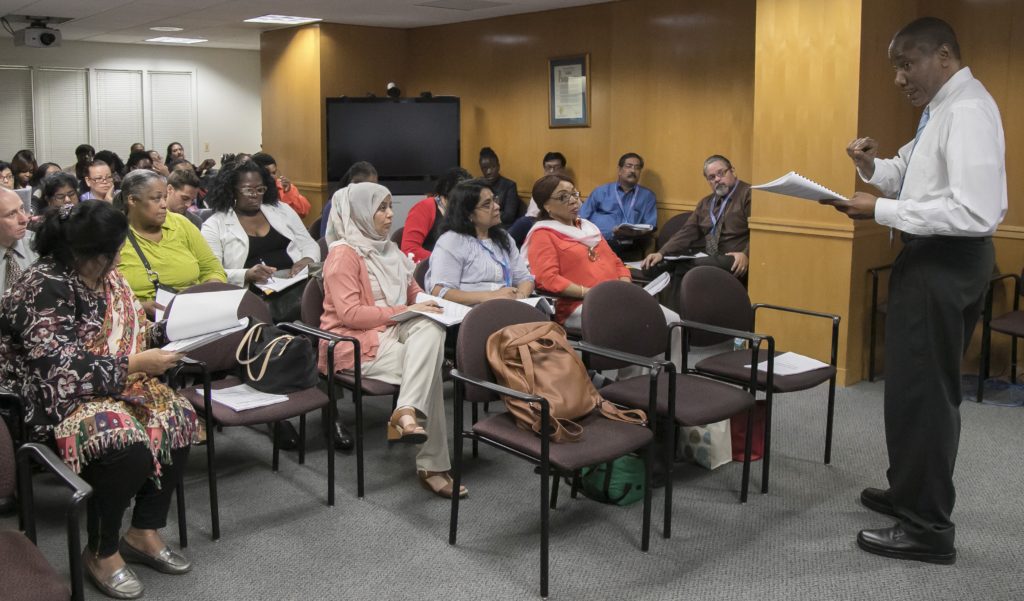 NYCHA employees are getting some valuable information about housing court proceedings.
This spring, Deputy General Counsel Sam Mordi, along with Landlord and Tenant Division Chief Tracy Forrest, brought some clarity to a complicated process. In nine sessions covering all five boroughs, more than 500 property managers, assistant property managers, and housing assistants got tips on completing relevant documents correctly, the items needed in court, staying organized, and improving rent collection.
Participants received a 60-page booklet, a condensed manual for housing court. According to Mr. Mordi, NYCHA attorneys handle about 120 cases each day per borough, and this guide – "practical and full of knowledge" –can help development staff facilitate the Law Department's work. "We know you're very busy and doing a lot, so these resources will help you stay organized," he said. "This session brings understanding, and understanding is key to making this work easier."
Mr. Mordi also stressed the significant role that front-line staff play – not only in housing court proceedings but also in shaping the public's perception of NYCHA. "As development managers, you are in charge; you are the face of the Authority," he said. "We all have to work together and maintain our integrity to change the narrative about NYCHA that we see in the newspapers every day. The narrative can change, and it's going to change with us."
Much of the course was devoted to the importance of rent collection, including tips for collecting rent from residents tardy in paying it, such as through oral and written requests as well as by making any necessary repairs in residents' apartments. "We must improve rent collection so that NYCHA has the funds it needs to survive," Mr. Mordi informed attendees. "The procedures we're discussing here will help improve the rent collection rate." He instructed property management staff to make any necessary repairs in residents' apartments to facilitate the collection of rent owed.
Mr. Mordi also discussed how adherence to the legal process for nonpayment of rent can reduce the number of cases brought to court.
If you have any questions about housing court proceedings, you can contact Landlord and Tenant Division Chief Tracy Forrest at (212) 776-5051.