Honoring the Heritage of Ethiopian Jews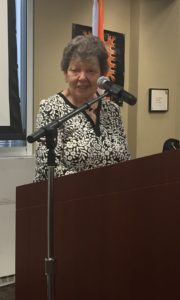 Batei Tsibur, NYCHA's organization of Jewish employees, held its annual Jewish Heritage Celebration on May 23 at the 90 Church Street Ceremonial Room. This year's event recognized the 70th anniversary of the establishment of the modern State of Israel and the 50th anniversary of the reunification of Jerusalem.
Participants learned about an incredible piece of history from guest speaker Barbara Ribakove Gordon, one of the founding members of the North American Conference on Ethiopian Jewry. Ms. Gordon discussed the accomplishments and challenges facing Ethiopian Jews in Israel and Ethiopia. She participated in Operation Solomon, the 1991 Israeli airlift that rescued and brought to Israel over 14,000 Ethiopian Jews from war-torn Ethiopia. Ms. Gordon spoke about the additional assistance provided to the emigrants, including the schooling and socialization programs that helped them join Israeli society.
To join Batei Tsibur, please contact Nina Winer at 212-306-8558.