Honoring NYCHA's Finest

Outstanding Caretakers Receive DeCarlo Awards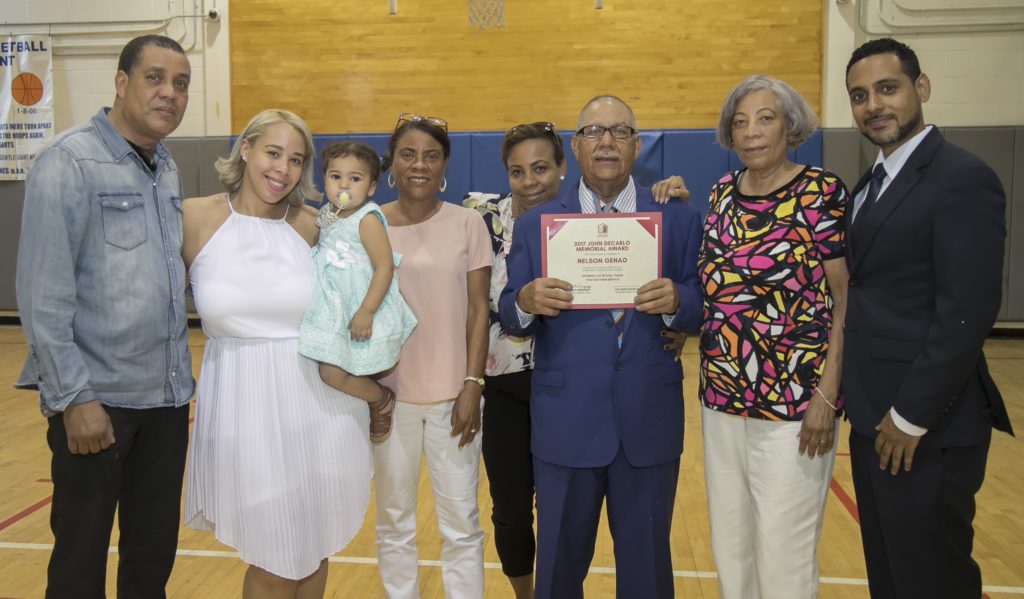 This June, NYCHA recognized two exemplary employees with the John DeCarlo Memorial Award. The award is presented annually to caretakers who go above and beyond in service to residents; it was established to continue the legacy of John DeCarlo, a Marlboro Houses caretaker beloved by residents and colleagues alike who lost his life on duty in 1997.
Caretaker Nelson Genao was presented with a check for $1,000 by Executive Vice President for Operations Cathy Pennington, surrounded by family, colleagues, and Teamsters Local 237 representatives at the Bronx River Community Center. In a separate ceremony at her development, runner-up Virginia Gabriel, a caretaker at Glenwood Houses, received a check for $500. They were chosen for the honor out of dozens of nominations, and Ms. Pennington praised their commitment and outstanding work ethic.
Mr. Genoa began his NYCHA career as a caretaker at Bronxdale Houses in 1997; he's worked at Bronx River Houses since 2006, where he's known as a team player who doesn't hesitate to help out whenever needed. Supervisor of Housing Caretakers Leonard Crawley remarked that "he always goes the extra mile when performing his tasks and duties, shows initiative, and takes pride in his work. Residents often compliment him for keeping the grounds so well maintained."
Ms. Gabriel has been a caretaker at NYCHA since 2000, serving several developments throughout Brooklyn. According to her supervisor, Jerry Burk, "Ms. Gabriel is truly very hard working and dedicated, has a great attitude, and always greets residents with a smile."
Stay tuned for information on how you can nominate a caretaker who embodies NYCHA's core values (respect, efficiency, collaboration, safety, and accountability) for next year's awards.