HelpMeQuit

Break Your Smoking Habit with Assistance from This New App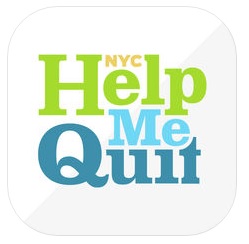 From the NYC Department of Health and Mental Hygiene comes a new tool in the battle to quit smoking: the NYC HelpMeQuit app.
Developed with input from smokers trying to quit, HelpMeQuit includes tips to stop cravings; social support from other people using the app and Facebook friends; connection to existing smoking cessation resources (such as the New York State Smokers' Quitline and a map of nearby clinics); and in-app games to distract from smoking.
HelpMeQuit also helps users track the amount of money they save by not money buying cigarettes; the number of cigarettes they have not smoked; the milestones they've reached; and the time – down to the hour – since they quit smoking. The app can be downloaded on the Apple or Google Play stores.
Features of NYC HelpMeQuit:  
My Profile tracks money saved by not smoking and awards badges that highlight health gains achieved through quitting, like improved blood pressure and lung function.
I'm Craving Now offers real solutions for triggers and cravings, such as "Call a friend and chat for a few minutes" and "Close your eyes and take 10 slow, deep breaths."
My Quit Buddies connects to other people trying to quit through the HelpMeQuit app.
Why I Quit gives users a space to list their reasons for quitting and upload photos and videos to motivate them.
Distract Me offers four games to play instead of smoking: Bubble Pop, Hi-Lo, Hit & Miss, and Alien Invasion.
In New York City, 867,000 adults and 15,000 adolescents use tobacco products. Tobacco use is a leading contributor to premature, preventable death in New York City, killing about 12,000 people annually, and impacts the quality of life for thousands more. Tobacco use can cause vascular disease, stroke, diabetes, heart disease, lung disease, and more than 10 types of cancer.
The U.S. Department of Housing and Urban Development requires all of the country's public housing authorities to go smoke-free by July 30, 2018. This means no smoking inside apartments, indoor common areas, and within 25 feet of buildings.
Health Benefits of Quitting Smoking:
In 20 minutes: heart rate and blood pressure decrease.
In two weeks to three months: lung function improves and heart attack risk begins to drop.
In one year: the risk of heart disease is cut in half.
In 10 years: the risk of dying from lung cancer will be half that of a smoker.
In 15 years: risk of heart disease is the same as a nonsmoker.
For more information on how to quit: