Groundbreaking Legislation Provides Paid Safe Leave to Victims of Violence

First Law of Its Kind in the Nation to Take Effect in May 2018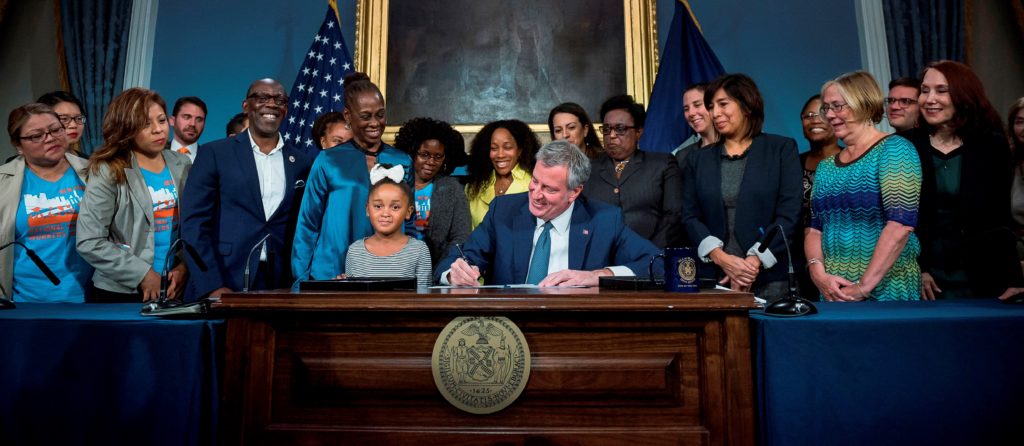 On November 6, Mayor Bill de Blasio signed legislation that expands paid leave to domestic violence, sexual assault, stalking, and trafficking survivors. This new law will allow the nearly 3 million New Yorkers eligible for paid leave to attend to immediate safety needs without fear of penalty or loss of income.
"No New Yorker should ever have to decide between their safety and a paycheck," Mayor de Blasio remarked. "This new law will make it easier for survivors to get the care they need without jeopardizing their livelihood. I want to thank the First Lady, Speaker Mark-Viverito, and Council Member Ferreras-Copeland for championing this cause and fighting to bring an end to the pernicious cycle of domestic abuse."
The legislation – the first of its kind in the nation – takes effect in May 2018. It does not add to the total amount of leave time an employee is entitled to – instead, it allows workers to use paid leave to address safety and access critical services related to specific criminal offenses. That can include getting medical care; meeting with a social worker, lawyer, the District Attorney's Office, or a financial counselor; filing a police report; attending a court appearance; or moving into safe housing.
Learn more here.