Good Service Comes in 34 Languages

Recognizing NYCHA's Language Bank Volunteers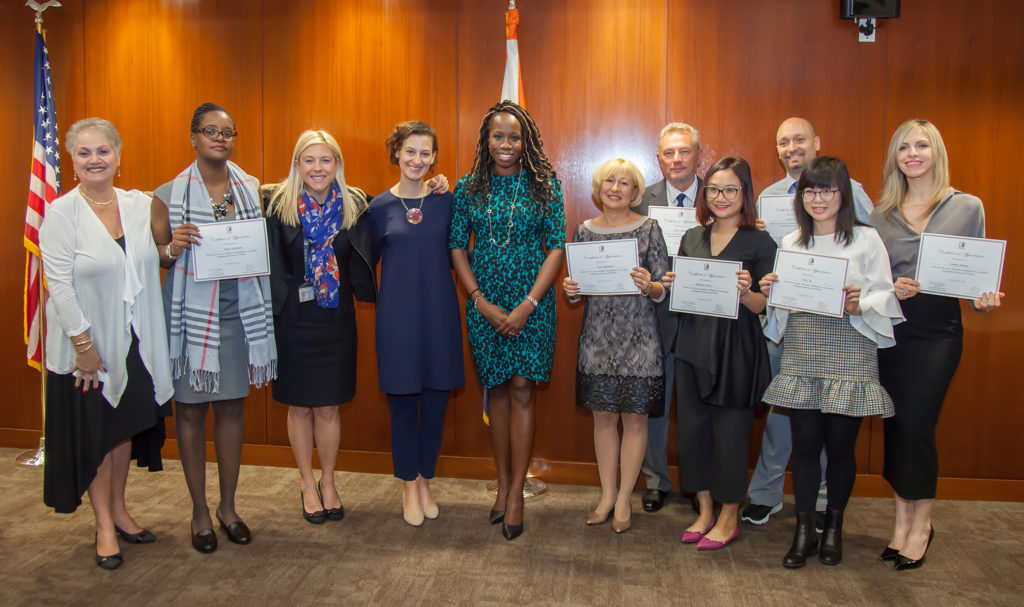 NYCHA's Language Bank Volunteers provide language assistance to the Authority's limited English proficient residents, applicants, and Section 8 voucher holders, ensuring they have access to information and resources in their original languages. On October 20, 2017, these employee-volunteers were recognized for their service.
NYCHA's Language Bank began in 1990 with 44 employee-volunteers who spoke eight languages, and now it is one of the largest language banks in the city, with 142 active volunteers who speak 34 languages, including the six most common languages spoken in NYC: Spanish, Russian, Chinese, Haitian Creole, Korean, and Italian. So far in 2017, volunteers have responded to more than 5,330 requests for interpretation services and translated nearly 400 documents.
NYCHA Chair and CEO Shola Olatoye thanked the volunteers for their service and said, "Language should never be a barrier between the work we do and the people we serve…The assistance of our Language Bank staff and volunteers helps NYCHA be a better, more connected, and more effective landlord and extends that promise to all New Yorkers."
One hundred Language Bank Volunteers attended the ceremony. They each received certificates of recognition from Chair Olatoye; Bitta Mostofi, Acting Commissioner of the Mayor's Office of Immigrant Affairs; Jean Weinberg, Chief Communications Officer, Department of Communications (DOC); and Millie Molina, Senior Manager for Events & Communications Services and NYCHA's Language Access Coordinator.
Ms. Molina served as emcee for the event; she told the audience, "This week, NYCHA is celebrating Customer Service Week and the theme is 'Building Trust.' This annual event celebrates excellent customer service. Through your valuable contributions in providing essential language services at NYCHA, you have earned the recognition of 'Building Trust' and we applaud you."
Twenty-year Language Bank Volunteer Irving Anglada, Security Manager in the Office of Safety and Security, spoke about his many years working as an interpreter, including prior to joining NYCHA. "Of all the interpretation work I've done, volunteering to interpret for NYCHA has been the most gratifying, whether it is helping applicants get information or helping residents submit repairs requests. However, to me, most important is helping our seniors – the look on their faces when I speak Spanish and they know I'm there to help them, it just makes me feel good. I made a difference in one person's life, especially when they show their gratitude by saying, 'Que dios te bendiga.'"
Following the presentation of awards, Iryna Baranska, Russian Interpreter in the DOC Language Services Unit, led an informative workshop for volunteers on interpretation and translation guidelines.