First NextGen Quarterly Report Demonstrates Progress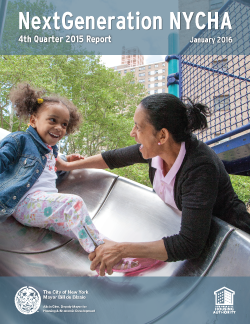 On January 21, the Authority released its NextGeneration NYCHA 4th Quarter 2015 Report, citing progress made during the first eight months implementing the Authority's 10-year strategic plan. The report focuses on the plan's 15 strategies that will transform the way NYCHA does business to create safe, clean, and connected communities. "By changing how NYCHA is funded, operates, (re)builds, and engages with our residents, the Authority will overcome the challenges of declining government funding and aging infrastructure," Chair and CEO Shola Olatoye stated in the report.
At the time of the plan's announcement, NYCHA had $17 billion in major repair needs across its public housing portfolio. In addition, the average repair times throughout the portfolio exceeded 20 days at OPMOM developments. The Authority has made significant progress in these areas and has introduced innovative technologies and new work practices that will further improve service to residents.
At the Executive Board Meeting held on January 27, Chair Olatoye presented a summary of progress that highlighted 10 accomplishments (see box). "At our release of our NextGen initiative last May, we publicly made a commitment for quarterly reports on progress on our 15 strategies to show how we're doing and where there is room for improvement," Chair Olatoye recalled.
Report Highlights:
Secured forgiveness of $100M annually from the City
Released MyNYCHA App
Reduced completion time of maintenance requests from 21.4 days to 8 days at OPMOM developments
Reduced emergency service levels by 7%
Improved rent collection by 10% at OPMOM developments
Selected ESCO to manage first EPC to lower energy consumption at up to 80 developments
Developed new design standards
Rolled out recycling program at 99 OPMOM developments
Issued RFPs for 100% affordable new housing
Launched Fund for Public Housing
"While we have made an auspicious beginning, there are many challenges ahead," she later noted. "Change is never easy, but with the help of dedicated employees, along with residents and our many partners, we will secure the future of public housing for future generations of New Yorkers."
The first NextGen quarterly report is available to view here or at: http://www1.nyc.gov/site/ nycha/about/nextgen-nycha. page.