Exceptional Customer Service

Training Promotes Customer Service Superheroes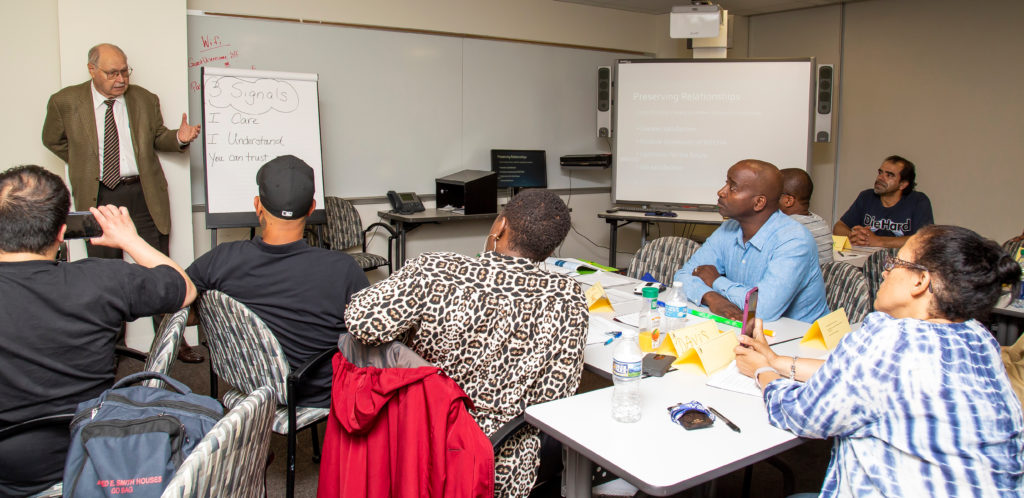 NYCHA Management Trainer Sue Ellen Doria kicked off a recent "Exceptional Customer Service" training class with an essential, and not so theoretical, question: "What does exceptional customer service mean to you?" She then summed up the purpose of the day: "We want you to have the courage, wisdom, and heart to provide that service. We want you to demonstrate professionalism with integrity, composure under pressure, and personal accountability."
The participants – caretakers, housing assistants, secretaries, clerical associates, and other titles from developments across the city – pondered the question and dissected what it means.
"Composure under pressure means that you never let residents see you sweat."
"Yes," Ms. Doria agreed. "It's remaining calm even if your customer may not seem calm. That's your job as front-line staff, as the backbone of the Authority. What does accountability mean to you?"
"Do what you say you're going to do."
"A lot of people think 'accountability' is negative," Ms. Doria continued. "We want to show you there's a positive flip side to accountability. And we want you to exceed customer expectations and build long-term relationships that evolve as customers' needs change. That is at the heart of providing safe, clean, and connected communities here at NYCHA."
Ms. Doria noted that the training course, which is for all NGO staff, launched in early June with managers, supervisors, and regional asset managers due to the belief that good customer service comes from every level of an organization.
Over the course of the daylong training session at 250 Broadway, participants discussed NYCHA's core values; how customers can be both internal (e.g., colleagues) and external (e.g., residents); customer expectations and customer service standards; how to handle challenging situations; and the importance of closing the customer service loop. They also drafted action plans to help them become customer service superheroes.
Jenise Santana, Housing Assistant at Pomonok Houses, said that she "learned the importance of offering exceptional customer service when tackling any issues residents may have, which allows them to trust us to serve them effectively and efficiently. I highly recommend that all employees take this class so they can feel empowered to put forth NYCHA's core values through truly exceptional customer service."
Another trainer involved in creating and conducting the course, Administrative Staff Analyst Helen Reinstein, said: "I'm thrilled to support customer service at NYCHA! Our focus has been on resident/external customer needs. But it's vital that our staff members feel their satisfaction matters too. We need everyone to build an agency where accountability, respect, and professionalism are the standard every day; it's essential to our sustainability."
To date, more than 300 NGO staff from a range of titles have completed the training, and another approximately 900 staff will be scheduled for it in the coming months.