Erenisse Tavarez: NYCHA's First Women's History Month Awardee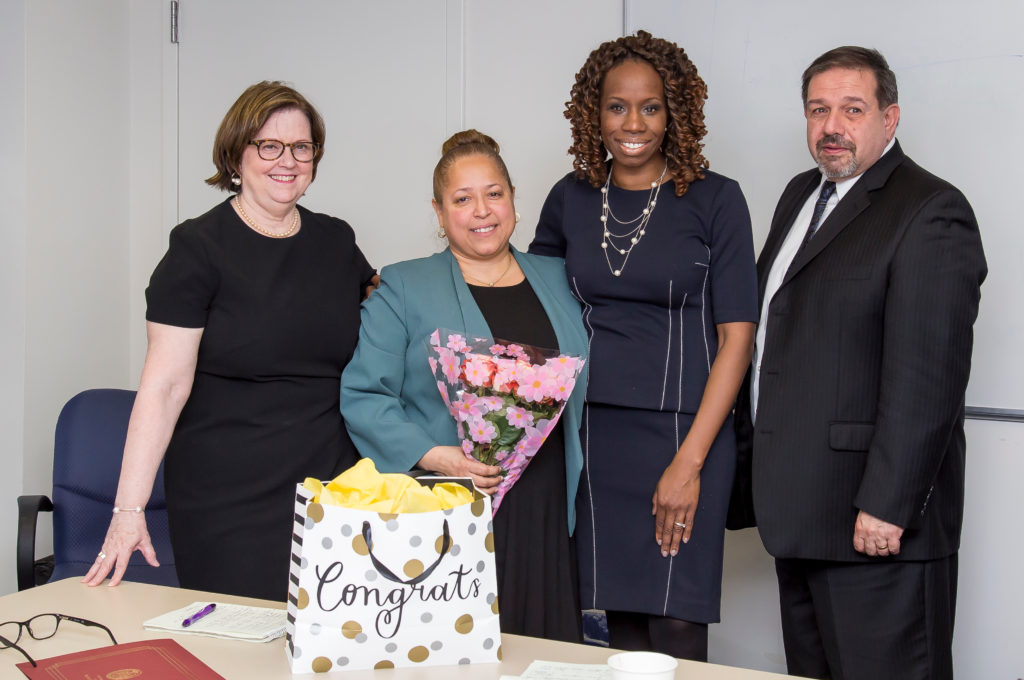 Erenisse Tavarez, Acting Senior Vice President for Operations, was honored as the first-ever recipient of NYCHA's Women's History Month award.
Chair Shola Olatoye presented the award to Ms. Tavarez along with a proclamation of gratitude from Council Member Alicka Ampry-Samuel, Chair of the Council's Committee on Public Housing. "We are so honored to thank you for your service and commitment to the residents of New York, whether it was [as Director of] Emergency Services or now in your new role," Chair Olatoye exclaimed. "You are a model to men and women alike throughout the Authority, and really are the definition of a leader here. We are thrilled to have you as our first honoree."
"I've been here for a long time," Ms. Tavarez replied. "There was a time when women didn't have a voice at the table. We've come so far in this agency, and I'm so proud of my colleagues. You make me better every day!"
Ms. Tavarez was nominated for the award by Chaking Moore, Resident Buildings Superintendent at Parkside Houses, who said: "She has gone above and beyond to serve NYCHA's residents. She revolutionized ESD with procedures to ensure residents are responded to with prompt service and effective results, with the resident feeling cared for at their time of need. She has been on the front line during major emergencies at all hours of the night and is usually the only woman who has responded. And she has managed to break barriers as a woman in a position of authority in a male-dominated field."
Mr. Moore described how he and Ms. Tavarez evacuated an 88-year-old Coney Island resident during Hurricane Irene, while water flooded the streets.
This year's national theme – "Nevertheless She Persisted: Honoring Women Who Fight All Forms of Discrimination Against Women" – aligns strongly with NYCHA's core values of respect, diversity, equity, and safety. The theme also speaks to the progress made through NextGeneration NYCHA thanks to the persistence of hard-working employees.
Every March, as part of Women's History Month, the Authority will honor dedicated public servants like Ms. Tavarez who make outstanding contributions to the NYCHA community.