Employee Voices: Connecting Residents to Community Resources

by Sybille Louis, Director for Performance Tracking & Analytics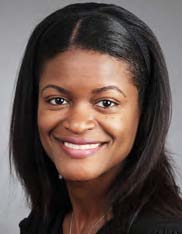 NextGeneration NYCHA mandates the use of data to support decision making and help NYCHA become a more transparent organization. The Performance Tracking and Analytics Department (PTAD) has taken a critical role in supporting the Next Generation NYCHA goal of operating as an efficient and effective landlord. Our mission is to provide performance management and business analytic support that helps NYCHA's executive staff and departments successfully execute long-term strategic goals and achieve day-to-day operational effectiveness and efficiency.
PTAD, along with IT, developed the Performance Tracking Dashboard to replace the existing Executive Information System, which has become obsolete, with a best-in-class solution for enterprise reporting which is fully interactive, actionable, and includes a rich variety of visualizations. It is based on Oracle Business Intelligence Enterprise Edition.
The dashboard consists of a home page to help NYCHA executives and staff quickly gauge NYCHA's performance in key operational areas such as work orders, rent collection, elevators, etc. The additional tabs provide detailed information on various performance indicators. Users have the ability to view point-in- time and trend data and drill down to the data along organizational and other management lines.
Data from the dashboard can be easily exported to Excel, Power Point, PDF and other data formats for analysis and sharing with others as a management tool. Staff at all levels of the Authority is quickly able to identify and investigate problem and opportunity areas, and use data to drive decision making and the deployment of scarce resources.
One of the most requested indicators is the service level for maintenance and skilled trades work orders. How long does it take NYCHA to respond to work orders? Staff can easily find the answer by logging on to the Performance Tracking Dashboard found under "Apps" on the NYCHA employee portal.
The user is prompted to enter their user ID and password to access the dashboard. The service level report is located on the "Service Level" tab.
The below screen capture from the Performance Tracking Dashboard shows the top five categories of open work orders at NYCHA as of January 23, 2016. Together, these top five categories represent 60 percent of all open work orders. The category of Paint has the highest number of open work orders with 43, 479 and represents 30.5 percent of all open work orders. Rounding up the top five are work orders related to ceiling.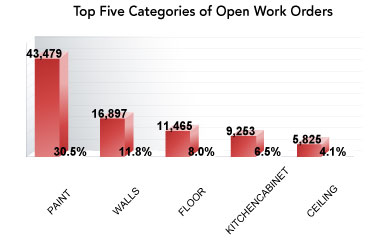 Staff are also able to obtain the details on the specific work orders on the dashboard. All reports default to the NYCHA overall numbers for the latest month available, but users have the ability to select the month they are interested in as well as the organizational unit: NGO vs. Pre-NGO, borough, regional asset manager, consolidation ("Managed By"), and development.
We especially encourage property management staff to check out this report and give us feedback. We would love to hear from you! Please contact PTAD at 212-306-3701 or Sybille.Louis@nycha.nyc.gov.