CEP Reorganization Provides Better Direct Service to Residents

by Alicka Ampry-Samuel, Senior Advisor to the EVP for Community Engagement and Partnerships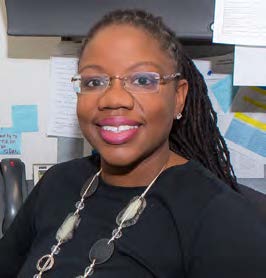 The Community Engagement and Partnerships Division (CEP), formerly known as Community Programs and Development, engages and connects NYCHA residents to critical services provided by the City and to programs and resources in their communities. Serving as a bridge for resident and community transformation, CEP is grounded in NextGen NYCHA strategies and will continue to ensure that residents remain safe, clean and connected.
CEP's four new departments are focused on two distinct areas of operation: working with NYCHA's extensive network of resident associations and managing external partnerships in the areas of economic opportunity, youth, seniors and social services.
Resident Engagement and Community Development activities are provided directly to residents by our staff, while Resident Economic Empowerment and Sustainability (REES) and Family Partnerships collaborate with NYCHA's external partners. Resident Engagement utilizes a proactive outreach approach based on specific resident needs and interests. Community Development engages residents around real estate programs related to new construction and permanent affordability tools that will repair and renovate their housing.
One intention of the reorganization is to interact with residents in a way that encourages their increased participation in our programs and initiatives. Through Community Development, residents are encouraged to lend their voice in the community development process and design of their neighborhoods. REES empowers residents to pursue their goals by connecting them with tools and resources to expand their economic opportunities such as food business and child care pathway programs. The Family Partnerships Department supports some of NYCHA's most vulnerable residents by connecting them with providers who offer programs designed to improve their health, wellbeing and quality of life, such as the Visiting Nurse Services.
The Zone Service model provides each department's operational structure. CEP engages residents, partners and staff in 15 designated geographic areas for better service and program coordination locally. In each Zone, a coordinator works with resident leaders and key stakeholders, local service providers and local NYCHA offices to connect residents to high-quality services in their communities.