Employee Organization Focuses on Shared Concerns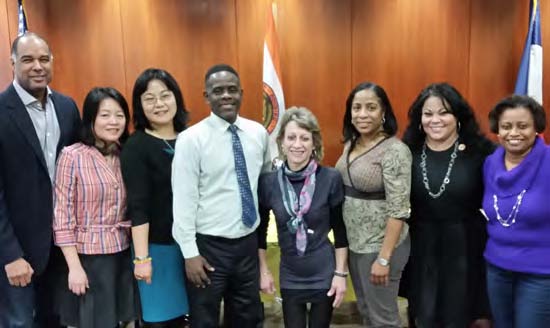 The Coalition of NYCHA Employee Organizations (CoNEO) held its first open house membership meeting in the 90 Church Street Ceremonial Room on January 29. One of several new employee organizations, CoNEO was formed with the unique mission of providing all employee organizations with a forum to identify and address shared concerns. The group will encourage increased employee engagement across the Authority to promote the wellbeing of employees and help mobilize for major NYCHA initiatives.
The timing couldn't be better for the new group. Yvette Andino, NYCHA's first Director of Employee Engagement and Special Assistant to the Chair, told the gathering that her position in the Chair's Office reflects NextGeneration NYCHA's goal of promoting employee engagement and working closely with employees to enhance employee culture while advancing the NextGen agenda.
CoNEO president Kenneth Cox, Administrative Staff Analyst in the Customer Operations Department, stated that a core group from other employee organizations was formed to develop CoNEO's mission statement, which was discussed at the recent meeting. "We will be meeting quarterly to share committee updates and develop plans and events," he said. "The committee chairpersons will also meet with their respective members to develop a list of interests and concerns that we will consolidate and later hope to discuss with NYCHA senior leadership."
Five committees were formed, each headed by the president of another employee organization: Health and Wellness, Membership, Outreach and Engagement, Emergency Response, and Training and Personal and Professional Development. Interested employees may contact Mr. Cox at (718) 707-5367 or by email, or First Vice President Linda Zhang at (212) 306-6677 or by email, for additional information.