Customer Service Week Takes Senior Staff to the Frontlines

by Malikah Williams, Urban Fellow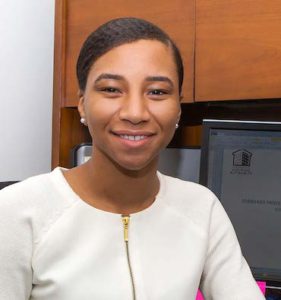 On October 27, during Customer Service Week, 18 senior administrators took employee appreciation to another level. Early that morning, they arrived to shadow employees at 12 developments to see the details of their everyday responsibilities and even help them to complete daily tasks. The visits allowed employees who interact with residents to relay resident issues and their own concerns to administrators, along with suggestions about how to be more efficient at their job.
Orisha Jennings-Hudgins, Senior Advisor to Arlene Orenstein, Director of Risk Finance, visited Baruch Houses in Manhattan, and experienced a day at work with Housing Assistant Deah Zandani.
"We discussed what he does in a typical day, which consists of answering phone calls, meeting with tenants, collecting rent, coordinating court documents, appearing in court to represent NYCHA, and providing assistance with social services," Ms. Jennings- Hudgins said.
Chief Gerald Nelson, Vice President for Public Safety, visited Borinquen Plaza in Brooklyn to shadow Housing Assistant Terry Gray. Chief Nelson witnessed firsthand Ms. Gray's daily tasks, from discussions with residents about air conditioning units to addressing rent arrears.
"During her interaction with tenants in the office and at their home, Ms. Gray remained professional, polite and knowledgeable. She displayed command presence, she is very competent, and is truly a great representative of NYCHA," Chief Nelson said.
Camille Ky-Smith, Senior Advisor to Executive Vice President and Chief Administrative Officer Kerry Jew, visited Straus Houses and shadowed Jason Flores, a caretaker at the development.
"Mr. Flores was a fantastic guide who takes pride in his work, his work ethic, and his relationships with his colleagues, and based on my visit, I would say that NYCHA is fortunate to have him as an employee," said Ms. Ky-Smith.
Customer Service Week emphasizes NYCHA's commitment to providing our internal and external customers with an exceptional level of service. Without the diligence, commitment, and dedication of NYCHA's employees, we could not achieve our vision of safe, clean, and connected communities.