Customer Service Week Shines a Light on NYCHA's Core Values

By George Jones, Housing Assistant, East 28th St.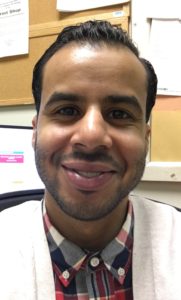 In light of Customer Service Week, the Employee Engagement Committee's (EEC) October meeting focused on the service we offer to residents and other stakeholders. EEC members discussed instances where good customer service reinforced our core values as well as some cases where poor customer service detracted from them. We examined how we can continue improving customer service and our commitment to our core values. The consensus was that customer service is deeply ingrained in our core values, so great customer service should come naturally in our everyday work.
Claims Specialist John Rubbo reflected on how an inviting work environment makes it easier for staff to provide customer service that goes above and beyond. Our interactions with our fellow NYCHA employees can also impact the quality of customer service we offer to our residents. That notion is in line with our core value of fostering a collaborative workforce, accountable to ourselves and our residents.
The importance of great customer service is bolstered by the fact that the effects of our interactions can, in many cases, last for years. The work of EEC member Yolanda Johnson-Peterkin, and her colleagues in the Family Partnerships Department, is a case in point. Yolanda reintegrates individuals returning home from prison and reunites them with their families. While this has a huge effect for the individual, the impact also extends to the overall health of the families residing in our developments and the community at large. Once these individuals are rehabilitated and meet the necessary qualifications, they should be able to rejoin their families and gain from their support. This belief is consistent with our core values of being a diverse and inclusive community as well as our mandate of creating and maintaining safe environments for our residents and ourselves.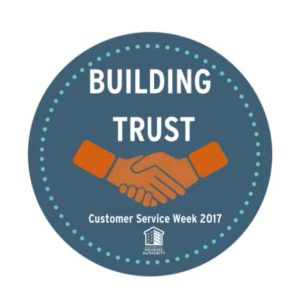 Offering quality customer service in all interactions through the lens of our core values is vital to our mission of providing affordable housing. The need for affordable housing is greater than ever, and we must live up to the expectations we've set for ourselves to be responsible and respectful landlords, which starts with a smile when our residents enter our offices. In the same way we as NYCHA employees expect a welcoming environment at our workplace, our residents expect to feel welcome at home, as they should.